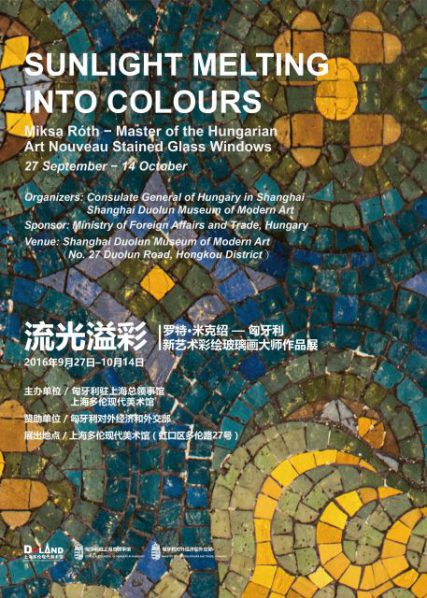 Sunlight Melting into Colors: Miksa Róth – Master of the Hungarian Art Nouveau Stained Glass Windows is on view in Shanghai Duolun Museum of Modern Art during 27th, September to 14th, October, 2016. This exhibition is co-hosted by Shanghai Duolun Museum of Modern Art and Consulate General of Hungary in Shanghai and is sponsored by Hungarian Ministry of Foreign Affairs and Trade. The exhibition presents Hungarian most outstanding master Miksa Roth's Art Nouveau style of paintings in the form of picture and installation before his death which are created on glass windows and mosaic decoration.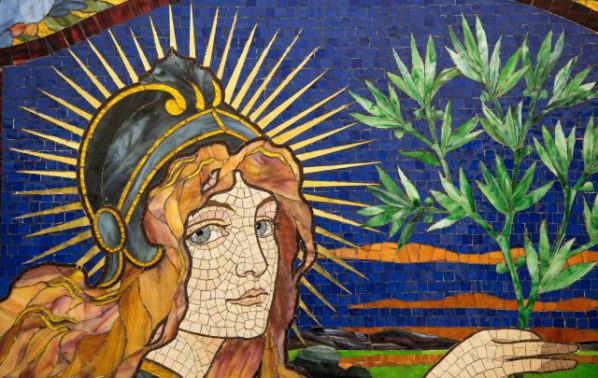 Miksa Róth (1865–1944) is the best known and most highly acclaimed Hungarian glass stainer and mosaic artist who ever lived. Among the buildings adorned by Róth's stained-glass windows are the Gothic church of Mariasdorf in Burgenland, the Hungarian Parliament, the buildings of today's Ministries of Finance and Interior, and the Central Bank of Hungary as well as the Vajdahunyad Castle, which was rebuilt in 1903, and the former royal retreat, which was converted into the Chapel of Ják. Of his mosaics, those which can still be seen today include the capital's largest public mosaic, Patrona Hungariae on the facade of the former Turkish Bank House on Szervita Square in Budapest; the mosaic symbolising the foundation of Pannonhalma Abbey on the facade of the church there; and the light modern mosaic decoration of the dome hall of the Széchenyi Baths executed in conjunction with Zsigmond Vajda. Róth was awarded the title of Knight of the Order of Franz Joseph for the successful introduction of the art of mosaic-making in Hungary. In 1900 he won a silver medal at the first major international review of the Secession (Art Nouveau) in Paris. Later he was awarded a gold medal in world expositions in Turin and Saint Louis, and received the Italian king's gold medal for reviving mosaic technique.
About the exhibition
Dates: Sep 27, 2016 – Oct 14, 2016
Venue: Shanghai Duolun Museum of Modern Art
Courtesy of the artist and Shanghai Duolun Museum of Modern Art, for further information please visit www.duolunmoma.org.
Related posts: