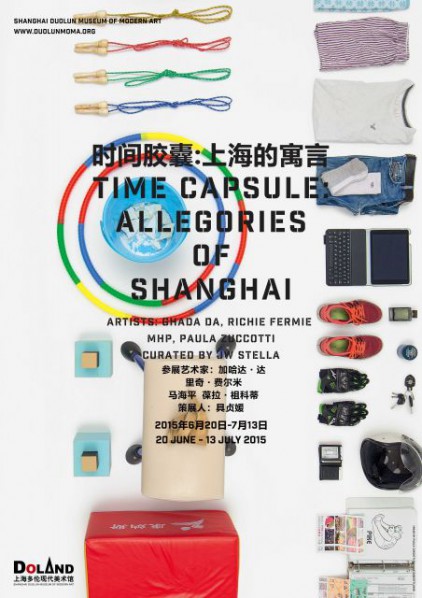 'TIME Capsule: Allegories of Shanghai' emanates from our proposition of 'culture' as one of the most complicated forms of ecology that exists. Culture itself is not easily defined by words alone, because it is a constantly evolving state of mind that is as organic as our use of language. Therefore there is no such thing as a defining moment for culture. To that end for over a century anthropologists have been trying to understand culture, and its absolute definition still remains unanswered. As an evolving phenomena culture is currently effecting and effected by people living through the epochs of post-globalization; mass mobility and digital modernity.
Individuals are now connected to the horizontal zone, and all of the diverse cultures within that zone are effortlessly influencing each other through their social interactions. Specifically through exchanges between the macro and the micro, the global and the local; we can see that new cultural codes are constantly evolving. Therefore when it comes to discussing contemporary culture, it requires we consider it in the 'present continuous' tense; in order to acknowledge its constant state of flux.
This exhibition also explores the term 'allegory', as a trigger for cultivating a wealth of very diverse perspectives from which to interpret cultures. Specifically in the context of this show, allegory is deconstructed of its original signification as being 'a symbolic generalization'. Here appearing in the plural tense, allegories; and not as the singular noun, allegory. Which also crucially raises questions about the thoughtless cultural clichés put upon otherness; in such circumstances as describing Asian cultural elements as exotic.
In context Shanghai is defined as the first metropolitan city in Asia, the third richest financial centre of the world, a critical terrain for the Korean independence movement and centre of ideology and Chinese philosophy at the beginning of the Modernism era. And against such historical and financial gravitas, the city has also emerged as one of the leading creative centres in the world.
Time Capsule: Allegories of Shanghai aims to draw attention to the city's culture; and of the vibrant sounds and sensations of its inhabitants. Whose individual lives become integral to the exhibition, as they are invited to witness allegories of themselves as artworks. And by exploring Shanghai through its people and their urban lives, the exhibition attempts to comprehend a measure of their thoughts, feelings, and aspirations; as they influence and are influenced by culture's evolution.
More specifically a leading component of the audience's participation involved a two week long on-line and off-line survey of their choice of memorable songs. Which were collectively given to the eminent British music producer and composer Richie Fermie to correlate into a sound encyclopaedia of Shanghai's very eclectic culture. In detail for the first sound installation Fermie re-interprets five of a total of fifty songs chosen by participants in the city. All of which proved acoustically intriguing to the producer. He then manipulated the collective sounds through a process of 'granular synthesis'. The archive of songs were selected between an on-line generation of music lovers; and an older group of people, who without the internet were invited to choose songs that were as memorable to them. Selecting only five songs Fermie deconstructed the elements of each of the songs, and reassembled them by employing a method known as granular synthesis. Which led to the musicians Pan Daijing (electronic musician), and Mindy Wang (Guzheng Player), responding to Richie Fermie five sound pieces, and also to the original fifty songs, with collaborative musical performances and improvisations.
The second audience participation lead by the Argentinian artist Paula Zuccotti involved her focusing on six individual lives in Shanghai through their utilitarian use of the objects that they come to use, consume and touch, over the course of one day. Photographic work, installation and video form the visual framework for which a selected audience become the matter and medium of the artwork. As Zuccotti's selected works are part of a more substantial long term project entitled 'Everything We Touch'; soon to be published by Penguin Books, in which she features sixty different people from all over the world.
While MHP, 'the son of Shanghai Techno', draws on the city's population to create impressive interactive soundscapes based on his twenty-four hour sensitive sensory experiences. Capturing twenty-four individual elements of sounds that are based on his own personal interpretations, as a compilation of sound allegories of Shanghai. For which MHP is using the frequency <90-15.1K Hz>, which is outside normal human hearing, presented as 'visual images'.
Finally Saudi artist Ghada Da seeks to divulge her spiritual experiences as a consequence of a direct exchange between the participants and the artist herself. Inspired by French philosopher Pierre Teilhard de Chardin, who said "we are not human beings having a spiritual experience; but spiritual beings having a human experience." Ghada Da's collective 'wishes' translate beyond language, race, gender, socio-cultural-political boundaries.
Between March and July of 2015 the curatorial project will aim to present time-space specific works at the Shanghai Duolun MoMA; where the exhibition will act as an active incubator for the audio and visual evidence of the city's cultural practices, extracted during the five months previously. And by reintroducing such electric sounds and sensations into a museum setting, to an audience participating and to those observing; Time Capsule: Allegories of Shanghai draws a visible light on the rich complexity and generative energy of belonging to one of the most richly diverse cities in the world.
About the exhibition
Dates: Jun 20, 2015 – Jul 13, 2015
Opening: Jun 19, 2015, 18:30, Friday
Venue: Shanghai Duolun Museum of Modern Art
Curator: JW Stella
Artists: Ghada Da, Richie Fermie, Ma Haiping, Paula Zuccotti
Organizer: Jw Stella Arts Collrctives, Shanghai Duolun Museum of Modern Art, Sonic Raygun
Courtesy of the artists and Shanghai Duolun Museum of Modern Art, for further information please visit www.duolunmoma.org.
Related posts: