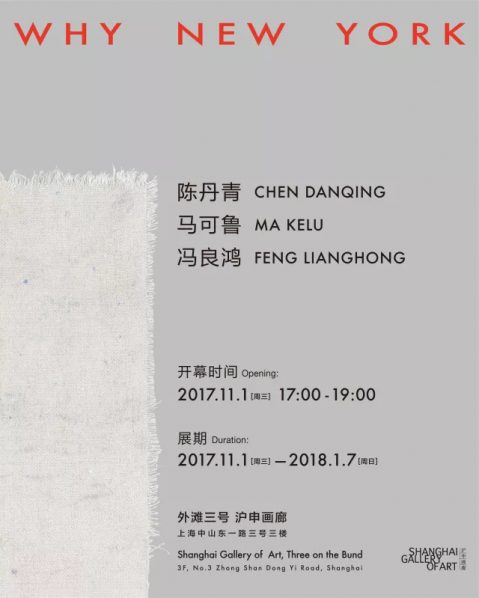 "Why New York" marks the fourth exhibition of the artists trio, Chen Danqing, Ma Kelu and Feng Lianghong. Being the forerunners at the various stages in the progress of Chinese contemporary art, these artists first met in New York in the 1990s. In that culturally rich yet unrelenting environment of Manhattan and Brooklyn, they single-handedly launched their artistic practice, provided camaraderie to each other and exchanged ideas about art. In the new millennium, they've returned to China respectively. Bearing in mind their artistic ideals, their friendship and experiences of New York reunite them to hold frequent exhibitions together. With this collaboration built on friendship, they continue to discover and develop one's own potential through the mirror of the others, as they persevere and temper in reaching their ideals in art.
Unlike the previous retrospective exhibitions, the artists present their most recent works. Chen Danqing's study on Picasso and other Western artists along with Chinese landscape painting and calligraphy is revealed in his conceptual painting "Catalogue", a work that addresses the complex notions of drawing, translation, compositional lexicon and pictorial transformation. Ma Kelu's "Ada" series embodies a principle of the "unconscious", whose cursive and hyper expressive techniques adroitly integrates with the emotional elements of the painting to render "true nature". Feng Lianghong's works encompass the various aspects of his exploration about painting since 2012, to render a sense of spatial texture through the layering of monochromatic schemes and realms.
In the curatorial text written for this exhibition, Chen Danqing stated the marks New York has left in their respective practice even after a decade since their return to China. All three artists are natives of Shanghai, and upon their return to the motherland, it is the first time they are gathering here again, and with this exhibition, not only to capture the glories of their time, but also to exemplify their energetic attitude in going forward.
About the artists
Chen Danqing
Born in Shanghai in 1953, Chen Danqing's family home is Taishan, Guangdong province. He is an artist, writer, and art critic. From 1970 to 1978, He was sent to the countryside of southern Ganzhou and later to the suburbs of Nanjing, during which he learned painting himself and was known as "Educated Youth Painter". In 1978, he was accepted into the oil paintings department of China Central Academy of Fine Arts as a graduate student. He stayed and taught at the school after his graduation in 1980. In the same year, his paintings of Tibetans received worldwide recognition and were recognized as a classic of epoch-making significance. In 1982, Chen resigned and moved to America. He returned to China in 2000 as a professor and doctoral supervisor at Tsinghua University Academy of Fine Arts. In October 2004, because of dissatisfaction with enrollment system, he resigned from Tsinghua Academy.Chen Danqing has published essays "Writings from New York", "Chen Danqing Music Notes", "The Extra Material", "Step Backwards Set", "Collection of Serial on the Back", "Talk with Chen Danqing: A collection of Special Column Articles in Art World", etc.
Both the way he paints and writes presents elegance and simplicity, wisdom and frankness, and it is full of the charm of his unique personality.Ma Kelu

Ma Kelu was born in Shanghai in 1954 and taught himself art during the Cultural Revolution. He was also one of the members who founded the "No Name Art Group" throughout the 70s and 80s. In the early 80s he was among the abstract painters to exhibit and work with the earliest experimental abstract painting group. In 1988, he traveled in Europe and U.S., then settled in New York City at the end of the year. He was awarded the Skowhagan Scholarship for painting and sculpture fellowship for painting. Then he entered The Imperial State College of State University of New York. He has hosted countless solo and group exhibitions in the U.S. and across Europe. He has also lectured at numerous North America universities and written extensively about art. He returned to Beijing in 2006, where he currently lives and works as an independent artist.

Feng Lianghong

Feng Lianghong was born in Shanghai in 1962. He graduated from the Shanghai Art and Design School in 1983. In 1989, he graduated from the Central Academy of Arts and Design (now The Academy of Arts and Design of Tsinghua University). Feng began to work on his abstract painting in the early 1980's and has participated the Modern Paintings: Six Artists in Shanghai in 1985 and the Modern Art in China at the National Museum of Art in 1989.

Feng Lianghong moved to the U.S. in 1990 and then settled down in New York where he has focused on modern and contemporary art, in continuous exploration the possibility of abstract art. He returned to China in 2006 where he currently lives and works, continuing extensive thoughts and practices of abstract painting and has held numerous exhibitions since then.
About the exhibition
Dates: 2017.11.01 – 2018.01.07
Venue: Shanghai Gallery of Art, Three on the Bund
Courtesy of the artists and Shanghai Gallery of Art, for further information please visit www.shanghaigalleryofart.com.
Related posts: