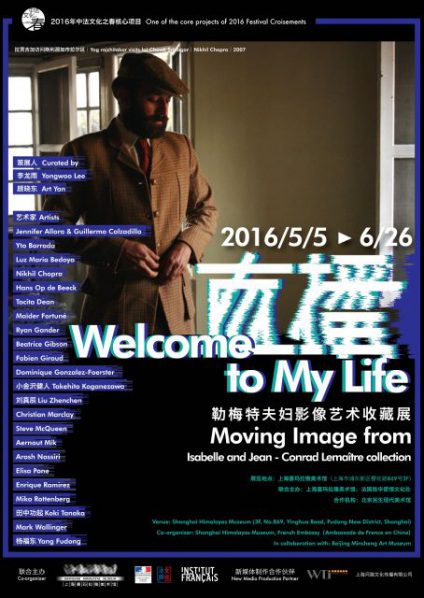 Shanghai Himalayas Museum announces its upcoming exhibition opening on May 5. The exhibition is entitled "Welcome to My Life" featuring moving images from Collection of Jean-Conrad and Isabelle Lemaître. The exhibition belongs to one of the core projects of 2016 Festival Croisements.
Paris-based collectors Isabelle and Jean-Conrad Lemaître have lived for a long time in other cities, such as London, Brussels and Madrid. They started collecting etchings, and proceeded with contemporary art. Video came in the mid-nineties, and has been their key focus since. In the course of the past eighteen years, they have put together acollection of outstanding quality and breadth, and which ranks them amongst the top collectors of video in the world.
The Lemaître were instrumental in the making of the Loop art fair a reference, and with the Loop festival, has become one of the most revered specialized video art event. To this date, they still are part of the artistic committee, presided by Jean-Conrad. Their relentless passion for this art form – and others – has also led them to start a small summer "happening" in Burgundy that takes place yearly during the course of the month of July. They happily host dinner parties, which eventually lead to viewing of some of their favored work of the moment, seated on a couch in the basement of their mews home in the west of Paris.
Collectors at heart, they travel to festivals and fairs, always looking and always encountering new and exciting new voices in the field. Risk taking is part of their business, and nothing seems to make them happier than sharing their passion with others. Their generosity is also at the core of the numerous exhibitions that have been featuring their collection.
A few years ago, Isabelle and Jean-Conrad also launched the Studio Collector prize, which is awarded each year to a young artist in residence at Le Fresnoy, a unique institution located in the suburb of Lille (France). For the past fifteen years, the Studio National des Arts Contemporains (National Studio of Contemporary Art) has been offering a two-year post-graduate residency and production program with recognized professionals as mentors, and state of the art production facilities in the field of the moving image and hybrid art forms.
Source: http://www.laboralcentrodearte.org
About the exhibition
Opening: 5pm, May 4th, 2016
Duration: May 5th – June 26th, 2016
Venue: Shanghai Himalayas Museum (3F, No.869, Yinghua Road, Pudong New District, Shanghai)
Curators: Yongwoo Lee, Art Yan
Artists:
Jennifer Allora & Guillermo Calzadilla, Yto Barrada, Luz Maria Bedoya, Nikhil Chopra, Hans op de Beeck, Tacita Dean, Maïder Fortuné, Ryan Gander, Beatrice Gibson, Fabien Giraud, Dominique Gonzalez-Foerster, Takehito Koganezawa, Liu Zhenchen, Christian Marclay, Steve McQueen, Aernout Mik, Arash Nassiri, Elisa Pone, Enrique Ramirez, Mika Rottenberg, Koki Tanaka, Mark Wallinger, Yang Fudong
Co-organizers:
Shanghai Himalayas Museum, French Embassy (Ambassade de Frence en Chine)
In collaboration with: Beijing Minsheng Art Museum
Courtesy of the Shanghai Himalayas Museum, edited by Sue/CAFA ART INFO, for further information please visit www.himalayasmuseum.org/en.
Related posts: