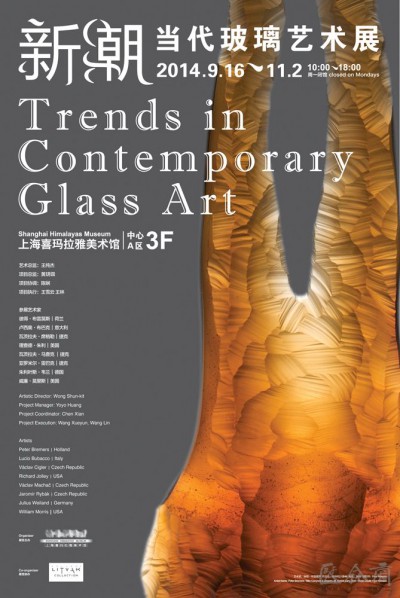 Introduction:
The exhibition at the Himalayas Museum brings together 8 of the world's leading glass artists working in various different glass techniques such as: casting, carving, fusing, lamp-working and blowing. For these artists, glass is their primary medium of choice and together, along with other talented glass artists they compose what we now call the "Glass Studio Movement" or "New Glass". The movement, which began in Europe in the 1960's and spread rapidly to artists working in the United States totally transformed the way we look and think about glass. It allowed artists working with glass to break free with established traditions and move towards exploring the boundaries of the medium in terms of technique, size and shape thus transforming it from glass for utilitarian and decorative use such as dished, pitchers and vases into an established artistic media. Some of the works in the exhibition are purposefully on the edge of decoration and art, and some are characterized by the desire of the artist to express his ideas, and the exhibition enables a broad look at these contrasting approaches.
Short Bio's of all Participating artists:
Peter Bremers
Dutch artist Peter Bremers is known for his signature kiln-cast sculptures inspired by his extensive travels. As an expression of his respect for the wonders of the earth, Bremers created two highly regarded series of sculpture, Icebergs & Paraphernalia and Canyons & Deserts that capture the magnificence of icebergs and the majesty of the American Southwest. To create his work in glass, Bremers first sculpts a hard foam model, imagining the final glass object's transparency, polished and structured surfaces and the optical effects. The finished model is used to make a plaster mold which is then filled with slabs of colored glass that are melted in the kiln. The piece must cool for up to three months, at which point it is ground and polished to its superbly detailed finish.
Lucio Bubacco
Lucio Bubacco was born on the beautiful island of Murano, near Venice, in April 1957. Commonly referred to as the Glass Island, Murano provided Lucio with the inspiration and techniques that have set him above and beyond his common contemporaries. He has given life to an art form uniquely his own using the traditional Venetian lampworking technique in which a blowtorch heats canes of glass. Lucio Bubacco is one of only a select minority who use the lampworking technique for true artistic expression. His incomparable work is proudly displayed in significant private and public collections throughout the world.
Václav Cigler
Václav Cigler, born in 1929, is one of the most important postwar artists of the Czech Republic. His work focuses on simple geometric forms – circles, spheres, squares, cylinders – paring down the details of the world to give us a sense of pure essence. In this way, he emphasizes our powers of reason and order, while the dazzling properties of light and his use of water relate to nature's energy. Cigler's art is about each of us—about our reflections, our visions, and our ability to concentrate on the sculptures themselves and make them our own. He successfully exploited the material's purity in a minimalistic language and became the father of modern glassmaking's sculptural-conceptual role.
Richard Jolley
American artist Richard Jolley was born in 1952, and is internationally recognized as part of the Studio Glass Movement. His kind of hot glass sculpting is heavy work that cannot be done alone, as he is loyal to the technique of free form sculpted glass using hand working processes at the furnace. Jolley is involved in many kinds of subject matter, yet he holds fast to certain visual ideas: the human silhouette, the sphere, the column, the male and female aspects of identity, the symbolism of birds, and the metaphysical aspects of time and space. Clean forms and bright colors result in pleasantly surreal sculptures, reflecting Jolley's inspiration and imaginative creativity.
Václav Machač
Václav Machač was born in 1945. He is a graduate of the Prague Academy of Arts, Architecture and Design and has been a leading representative of Czech and international glass art since the 1970s. Machač's starting point is in classical sculptural modeling and he uses the technique of glass blown into a mold that is then polychromed. With this approach he achieves outstanding results in an expressive form of realism. Machač chooses characteristic themes in which he emphasizes his interest in manifesting the strength, resistance and determination of both humans and animals. It seems like through the powerful realism of his modeling, he seeks to confront the mannerist aestheticism of several glass techniques.
Jaromir Rybak
Born in 1952, Czech artist Jaromír Rybák successfully bridges the gap between the beautiful and the ugly, light and dark, and the harmonious and aggressive. He finds inspiration through science, history, nature, and pure artistic imagination. Through the use of cast, cut, and engraved glass to carry out these various ideas, Rybák's sculptures contain multiple layers that instantly gain the viewer's attention. His commissioned works and architectural installations can be seen throughout Europe and the Middle East, and his sculptures are featured in the public collections of numerous museums in Europe, Asia, and North America.
Julius Weiland
Born in 1971, German artist Julius Weiland is quickly becoming one of the most well-known contemporary glass artists. His signature work is the fusion of borosilicate glass tubes designed for making laboratory appliances. The tubes are cut and layered in a mold and then fired in a kiln. Within this fusing process the tubes start to move, bend or deform, thus creating the frozen, yet vivacious structures which have become one of the recognizable attributes of his work. Weiland has received much international recognition for his work, including the 2011 Jutta Cuny-Franz Award.
William Morris
Born in 1957 in Carmel, California, William Morris is considered to be one of the most gifted and daring glass artists worldwide. Morris' work is an attempt to add to the archeological record of humankind. He draws inspiration from ancient civilizations, prehistoric cave paintings and burial rites. He evokes these distant realms in his glass objects not by copying their remains, but rather by expressing a yearning for a world in which people live in harmony with nature.
Morris choice of technique is very unique. He uses molten glass which he then blows into sculpted wood molds to create his forms. Instead of focusing on glass's natural beauty, he uses the medium's ability to transform into wood, bone and fiber.
About the exhibition
Organizer: Shanghai Himalayas Museum
Dates: Sept 15 –Nov 2, 2014
Venue: Shanghai Himalayas Museum (4F, No. 869, Yinghua Road)
Participating artists (Listed in alphabetical order by last name):
Peter Bremers, Lucio Bubacco, Václav Cigler, Richard Jolley, Václav Machač, Jaromír Rybák, Julius Weiland, William Morris
Courtesy of the artists and Shanghai Himalayas Museum, for further information please visit www.himalayasart.cn.
Related posts: