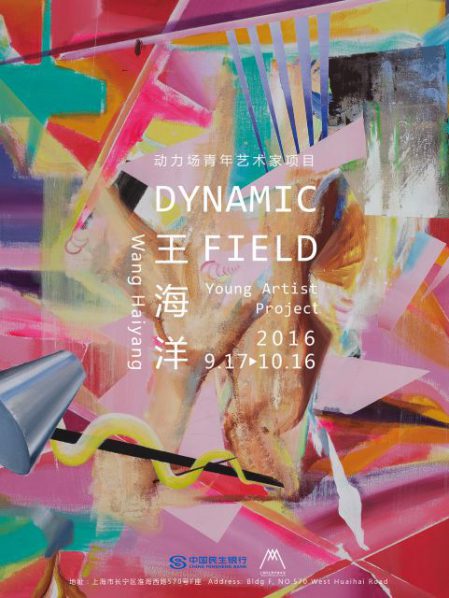 Shanghai Minsheng Art Museum is pleased to present "Dynamic Field: Wang Haiyang". Open on September 17, 2016, the exhibition will feature painting works by the artist since 2012. On public display for the first time, the works collectively cast light on Wang's exploration in the language of painting during the past few years. The exhibition will run through October 16, 2016.
Wang Haiyang's practice mixes surrealistic narration with changing shapes teeming with imagination. He delineates things in a somewhat random and spontaneous manner within a two-dimensional space of fantasy. Such senses of randomness and spontaneity are in fact a mirror of the spiritual undercurrents experienced by the artists. Wang's painting integrates notions of time, subconsciousness and unconsciousness together; and as a result, the final product seems to share some similarity with a long shot within which the various colors, lines and shapes interconnect metaphorically, giving rise to a process of constant deconstruction and reconstruction. In this regard, the images presented to the viewers can be deemed as the artist's own projection towards the outside world. According to the artist:"What lies behind these paintings is a sense of obsession. Within the chaotic circulation of constant emergence, replacement and disappearance, such obsession remains unchanged. One single painting cannot fully express what's in my mind. So I have to keep on painting. Despite the changes and differences shown in the images, the obsession remains the same."
About the exhibition
Dates: Sep 17, 2016 – Oct 16, 2016
Opening: Sep 17, 2016, Saturday
Venue: Shanghai Minsheng Art Museum
Courtesy of the artist and Shanghai Minsheng Art Museum, for further information please visit www.minshengart.com.
Related posts: