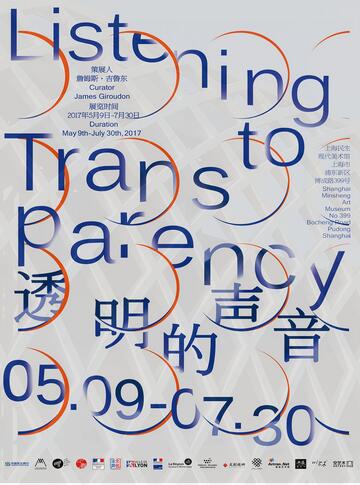 The upcoming exhibition Listening to Transparency hosted by Shanghai Minsheng Art Museum will be opened on 8 May 2017. The exhibition is curated by James Giroudon and specially produced by Grame-National center for musical creation in Lyon for the museum. The exhibition is one of the main activities of Festival Croisements 2017 and is kindly supported by French Institute with the City of Lyon and Wallonie-Bruxelles International (WBI).
Listening to Transparency is a group exhibition of Sound Art themed with "transparency", which consists of 44 audio and visual art works by 26 artists. Focusing on spatialization design and using any kind of transparent materials, most of these installation art pieces convey the status of optics and ability of visual expression behind the meaning of "transparency". In this exhibition, between tangible and virtual, during the transparency of listening itself where the sound is revealed by attention to silence, the collected installations make reference to improbability of borders and genres, they express a state of diversity of relationships between artistic fields. Combining art pieces on light waves and sound vibrations, Listening to Transparency creates various listening situations and offers active visitor participation. And in the process of getting involved, the audiences can experience the complex relationship among diverse fields of arts spreading out the museum, which might be autonomous, more or less remote, dissonant or fully integrated.
Layers by layers, the exhibition intends to filter various aspects of real life for inclusions and omissions, so as to construct an aesthetic picture of the highly-extracted reality. When the audiences enter this space that differs from their daily life with the diverse perceptions of the world from each artist of the exhibition, the art museum itself becomes a world full of different lights and shadows, silence and noises, as well as complexity and constant changes.
The exhibition will be open to the public from 9 May 2017 to 30 July 2017.
About the curator

James Giroudon was born in La Tour du Pin, Isère. He studied at the University of Lyon and is graduated from art history, sociology and education sciences. And he is a graduate of Pierre Schaeffer and Guy Reibel's class at the National Superior Conservatory of Music in Paris. From 1982 to 1990, he taught at the Conservatory of Music in Saint-Etienne, where he created an electro-acoustic music section.Having founded GRAME with Pierre Alain Jaffrennou in 1981 in Lyon, he takes charge of the management and artistic quality, as well as international development. In 1992, in Lyon, he created the Musiques en Scène festival, which in 2002 became a biennial.
Also involved in curating exhibitions, in China, he has participated as a curator at Taipei Fine Arts Museum for the exhibition Mobility, sounds and forms (2010) and Imminent Sounds (2013-2014), and also at The 2011 International Electronic Music Week (EMW 2011). In 2014, he curated for Around the Sounds at A4 arts contemporary center of Chengdu. As composer, he realizes several electro-acoustic music for concerts and large-scale musical events, as well as mixed works for soloists, instrumental groups and electronics systems. He has also written music for the theatre. In 1989 he received Le Prix de l'Académie du Disque Français for a record produced jointly with Musiques Numériques.
About the exhibition
Dates: 9 May 2017 – 30 July 2017
Venue: Shanghai Minsheng Art Museum
Artists:
Pierre Alain Jaffrennou, Michel François, Pascal Frament, Fujui Wang, Dominique Blais, Stéphane Borrel, Christophe Lebreton, Denys Vinzant, Pierre-Laurent Cassière, Matt Coco, Yann Orlarey, Jean-François Estager, Henri-Charles Caget, Julie Vacher, Dania Reymond, Iuan-Hau Chiang, Christian Rizzo, Gregory Chatonsky, William Anastasi, Thierry De Mey, Luc Ferrari, Manon De Boer, Thomas Leon, Li Yuhang, Deng Yuejun, Xiao Yu
Courtesy of the artists and Shanghai Minsheng Art Museum, for further information please visit www.minshengart.com.
Related posts: