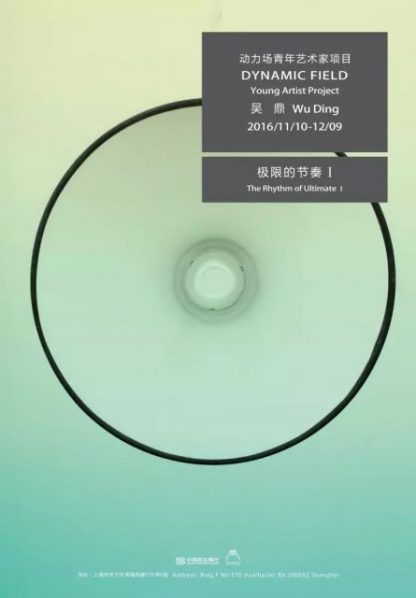 Shanghai Minsheng Art Museum is pleased to present "Dynamic Field" Young Artist Project Wu Ding on November 10, 2016. The exhibition will contains video, photography and image works. This is also the artist Wu Ding's latest creation on public display for the first time. The exhibition will run through December 9, 2016.
Wu Ding has long been dedicated to the exploration and practice of video. The major media he uses include words, pictures and videos. In his latest works, he focuses on the "order" formed in time and space, aiming to discover those hidden "internal order" that can be perceived yet can't be expressed.
In this personal project "Rhythm of ExtremeⅠ", via stimulation of modules' construction and aseptic white cube aesthetics, Wu Ding researches on the "internal order" behind today's super artificial world. From Wu's perspective, perhaps this is the single pivot point for the explanation of the world. The use of modules represents a typical modern attitude, that is, the absolute pursuit of maximized efficiency. It is only in systematic modules can contingency and inconvenience be reduced to the utmost. Today's "accelerated velocity" relies exactly on the ever-booming modular proliferation. Several modules comprise of one functional block; then several blocks operate as a system; several systems form a matrix. Each formation has it's own "rhythm", where self-formation, destruction and reformation take place in an ultimate accelerated velocity.
How does today's super artificial world present to us in a general structure? Whether every existence is governed by a universal rule? How does it form a unidirectional disaster? Wu Ding put forward his perception and his doubts on the world through the combination of emotionless visual elements and conceptions.
About the artist
Wu Ding (born in 1982)is an artist living and working in Shanghai. His recent exhibitions include We, K11 Museum (2016), Nonfigurative, Shanghai 21 Century Minsheng Art Museum(2015), Art Basel HK Film Sector (2016), Moving Image Istanbul (2015).
About the exhibition
Dates: November 10 – December 9, 2016
Venue: Shanghai Minsheng Art Museum
Courtesy of the artist and Shanghai Minsheng Art Museum, for further information please visit www.minshengart.com.
Related posts: