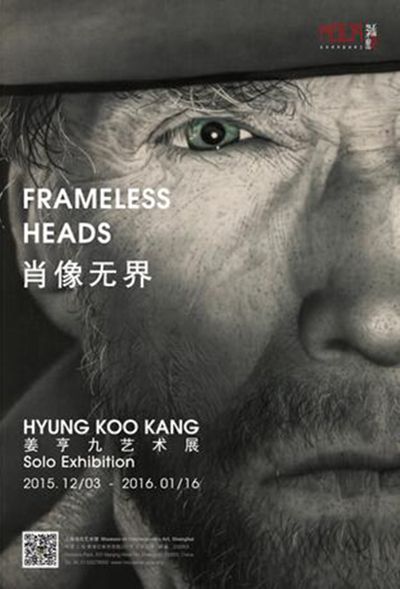 "…Portraits hung in empty halls. Frameless heads on nameless walls. With eyes that watch the world and can't forget…" Framless Heads, the title of Hyung Goo KANG's art show has been inspired by the lyrics of Don Mclean's famous ball "Vincent". The ballad was written for Van Gogh, the great Dutch artist, though people tend to have their own thoughts and feelings when listening to it. Looking at the portraits, some think about people, some about stories, and still others about themselves. The portrait painting has been one of the most important forms of art throughout history, and numerous masters have made their try at it. Today, with increasingly diversified artistic forms, the innovation of portrait painting poses a challenge to the artists.
On the 1st and 2nd floor, the exhibition place covers over 20 years of artistic creation by Hyung Goo KANG, and also features some of his recent works. Apart from oil paintings, the show includes aluminum plate paints, featuring magnified golden hair, splendid fine threads. The rich colors and tight layout done at an amazingly large scale awe the viewer with fine details of the character, creating an aura field that inspires imagination and the senses. The viewer will be greeted by the most important portraits done by Kang, including self-portraits and portraits of famous people. The viewer will also get the opportunity to feel the continuous experimentation and exploration of Kang's portrait art. Under the flash light, those still portraits feature a great power of vitality, instead of lifeless, symbolic characters. The viewer may even feel like enter the canvas and talk with the characters.
On the third 3rd floor, a documentary video about Kang and a re-production of his studio that features some of Kang's caricatures and figurettes over the years. The small artistic creations are part of Kang's artistic exploration about angles, characteristics, and artistic tools in reflecting character and feelings. The show also features his research into painting objects as well as his private collection of a range of artifacts. By entering Kang's artistic world, the viewer gets to understand better the artist's methodology and thoughts from different perspectives.
About the exhibition
Date: Dec 3, 2015 – Jan 6, 2016
Opening: Dec 3, 2015, Thursday
Venue: Museum of Contemporary Art, Shanghai
Courtesy of the artist and Museum of Contemporary Art, for further information please visit www.mocashanghai.org.
Related posts: