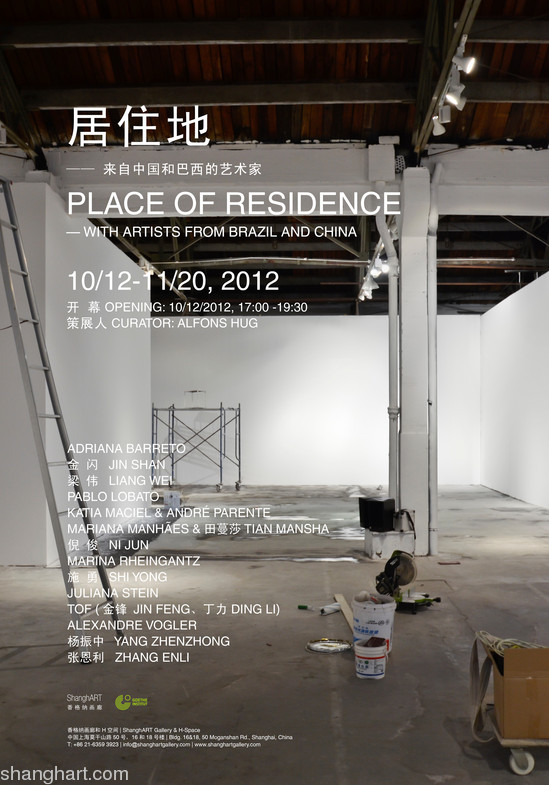 ShanghART Gallery is delighted to present a group exhibition, Place of Residence-with Artists from Brazil and China, on October 12th in both Main Space and H-Space. It is curated by Alfons Hug and is also a starting point for a larger project BRICS. The group exhibition presents art works from Chinese and Brazilian artists in different media including paintings, photos, videos and installations.
With the rapid development of globalization, it becomes important for artists to take advantage of local culture and show ethnic in their works. Curator Alfons Hug raises the idea of 'place of residence' and provides a clue to audience to explore cultural differences in areas. Place of residence has big impact on artists' creations. According to either geographically culture difference or historically environment distinction, artworks perform to convey in manners widely apart from each other. The exhibition blurs the boundaries deliberately between western and eastern artists, and let the audience recognize the difference gradually in culture background when seeing the real works.
About the Exhibition
Date: Oct-12, 2012 – Nov-20, 2012
Venue: ShanghART H-Space, Shanghai
Artists: Adriana Barreto, Alexandre Vogler, Jin Shan, Juliana Stein, Katia Maciel & Andre Parente, Liang Wei, Mariana Manhaes & Tian Mansha, Marina Rheingantz, Ni Jun, Pablo Lobato, Shi Yong, TOF(Jin Feng, Ding Li), Yang Zhenzhong, Zhang Enli.
Courtesy of the artists and ShanghART Gallery, for further information please visit www.shanghartgallery.com.
Related posts: