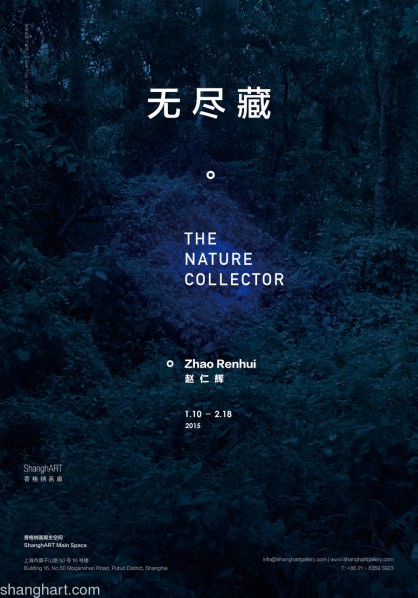 ShanghART Gallery is pleased to present Robert ZHAO Renhui's exhibition "The Nature Collector" in Shanghai, which will be his first solo presentation in China.
Zhao is an emerging Singaporean visual artist whose practice includes photography, performance, video and installation. Austere and mysterious, his works explore the relationship between humans and the nature, and frequently appropriate on the language and processes of science.
For "The Nature Collector", he unveils new works themed around the idea of animal traps. Traps are a source of fascination for Zhao, who sees them as elegant physical manifestations of humankind's knowledge of a particular creature. To best lure an animal into your trap, you need intimate knowledge of that species, as well as its habits, preferences and weaknesses. Zhao's images of traps, however, are open-ended and unexplained. They are landscapes inviting contemplation, and are possibly, ruses: Is the artist telling the truth? A splash of blue in jungle landscape is simply titled Bee Trap, and what appears to be a photograph of small red balls hanging in trees is called Apple Moth Trap.
Some works take on a hint of menace, touching on ideas of entrapment, punishment and sin. In Eskimo Wolf Trap Often Quoted in Sermons, a bloodied knife is stuck in a bed of snow. Behind, a text describes how a wolf, lured by rabbit's blood on the knife, will lick the knife, cutting its own tongue, getting more excited by its own blood, till it eventually bleeds to death.
Zhao's work also explores notions of boundaries, systems and control as human beings attempt to know and catalogue the natural world. In "He counts the stars and calls them all by name", a large photograph shows 4784 insects meticulously arranged and labelled with information of their provenance. The Biblical reference alludes to a complicated power releations between scientist and subject, human and animal, classifier and classified.
About the exhibition
Opening: Jan-10, 2015, 16:00-18:00.
Duration: Jan-11, 2015 to Feb-18, 2015
Venue: ShanghART main space, Building 16, No.50 Moganshan Road, Putuo District, Shanghai
Contact: info@shanghartgallery.com| www.shanghartgallery.com
Courtesy of the artist and ShanghART, for further information please visit www.shanghartgallery.com.
Related posts: