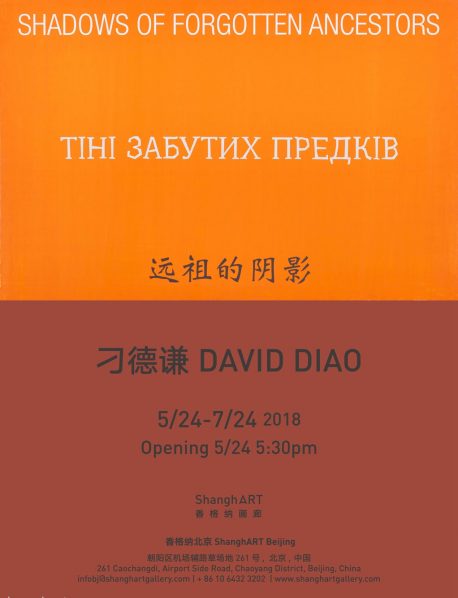 ShanghART Beijing is pleased to present David Diao's first solo exhibition with the gallery on 24 May. A solo presentation of his work was exhibited at West Bund Art & Design this past fall. Titled "Shadows of Forgotten Ancestors", the present exhibition features a selection of twenty paintings made between 1999 and 2018. Personal and culturally significant iconography unites the works presented therein.

Borrowing motifs from artists such as Kasimir Malevich, El Lissitzky, Barnett Newman, and others, Diao directly inserts his artistic influences and predecessors into the work. These "ancestors" are shown alongside familial ones, blurring cultural history with Diao's autobiography. Known for his keen ability to translate content as form, Diao's minimal compositions, which often incorporate stylized text, are both tributes to and wry interrogations of his ancestry, and legacy. The title of the exhibition comes from a 1965 film of the same name, by Soviet filmmaker Sergei Parajanov's. The suggestive phrasing of the title, as well as the story's multiple linguistic and cultural translations, relates to the paintings in the exhibition.

In the early nineties, Diao began to incorporate biographical elements that include his own career histories, as well as themes of his Chinese heritage, emigration, and displacement. Being of two cultures, yet not totally integrated in either, has been a touchstone of his practice since. Now, in "Shadows of Forgotten Ancestors", Diao brings together recurring themes, icons, and histories, substantiating a bridge between two poles of his identity.

Five decades into his practice, Diao's most recent works push into this new terrain, personally and formally. Since abandoning gestural abstraction in the mid-seventies, his paintings have been characterized by smooth surfaces and solidly painted sonorous color achieved by repeated passes with palette knives. Yet, for some time, Diao has considered expanding his practiced methodology by experimenting with other kinds of surface and facture. Hiding In Plain Sight (2018) and Berlin Chair Unassembled (2018) are among the few instances where he has allowed a more gestural and open surface to remain in the finished work. It is another ancestral reference, in a way, recalling his process-oriented paintings of the early seventies, and may portend future works to come – a radical stride for an artist of Diao's significance.

About the artist

New York School abstract painter David Diao's early works of the 1960s and 1970s are characterized by an earnest desire to contribute to the Modernist canon, while questioning its lineage and theoretical underpinnings. Early influences were Barnett Newman, a significant figure through Diao's career, and the hard-edge painter Al Held. By the early seventies, Diao's formalism was inflected with the social, cultural, and political. This has remained the primary preoccupation of Diao's work ever since. However, in the mid-eighties, Diao's style shifted radically, as he began incorporating silkscreened images, vinyl lettering, hand-drawn marker, and painted words, detailing his personal life and practice. Combining his radical formalism with avant-garde iconography, identity politics, and autobiography – namely, his Chinese identity as perceived by Western audiences, and his formative years as a boy in China, despite coming of age in America – Diao confronts the complexity of histories, whether they are canonised, global, or private, all of which are deeply personal to him.

David Diao's Solo-shows including: David Diao, Ullens Center for Contemporary Art, Beijing (2015); Front to Back, The Aldrich Contemporary Art Museum, Ridgefield, CT, U.S.A. (2014); Da hen Li House, Courtyard Gallery, Beijing (2008); Histoires et Fictions, Peintures Recentes de David Diao, La Criée and La Galerie du TNB,Rennes, France (1997); Selections 1972 – 1991, Cherng Piin Gallery, Taipei, Taiwan (1991); 1969 -1991…a real allegory, Postmasters Gallery, New York, U.S.A. (1991); Het Kruithuis, Museum voor Hedendaagse Kunst's – Hertogenbosch, Holland Provinciaal Museum voor Moderne Kunst, Oostende, Belgium (1990); Musée d'Art Moderne, Saint Etienne, France (1989); Arts Club of Chicago, Chicago, U.S.A. (1979) etc.

Group exhibitions including: Biennial, The Whitney Museum of American Art, New York, U.S.A. (2014); David Diao / Two Generations of Color Painting (1970) in ICA@50, Institute of Contemporary Art, Philadelphia, U.S.A. (2014); Conceptual Abstraction, Hunter College Art Galleries, New York, U.S.A. (2012); The Indiscipline of Painting: International abstraction from the 1960s to now, Tate St. Ives, Cornwall, UK, traveling into 2012 to Mead Gallery, University of Warwick, Coventry, U.K. (2011); High Times, Hard Times: New York Painting 1967-1975, traveling through 2008 to Zentrum fur Kunst und Medientechnologie, Karlsruhe, Germany, Neue Galerie, Graz, Austria; Museo de Arte Rufino Tamayo, Mexico City National Academy Museum; New York American University Museum, Washington DC; Weatherspoon Art Museum, Greensboro, North Carolina (2007); Black Belt, The Studio Museum in Harlem, NY, traveling in 2004 to Santa Monica Museum of Art, Santa Monica, CA, U.S.A. (2003); After the Fall, Painting in New York Since 1970, curated by Lilly Wei, Snug Harbor Center for the Arts, Staten Island, New York, U.S.A. (1997); Avant–Garde in the 80's, Los Angeles County Museum of Art, Los Angeles, CA, U.S.A. (1987); Tableaux Abstraits, Villa Arson, Centre National d' Art, Nice, France (1986); Geometric Abstraction: A New Generation, Institute of Contemporary Art, Boston (1981); Maler, Painters, Peintres, Prospect '73, curated by Konrad Fischer, Stadtische Kunsthalle, Dusseldorf, Germany (1973); Biennial, The Whitney Museum of American Art, New York (1973); Annual, The Whitney Museum of American Art, New York, U.S.A. (1969) etc.
About the exhibition
Opening: 5:30 PM, 24 May, 2018
Duration: 24 May – 24 July, 2018 (11:00-18:00, Monday Closed)
Location: ShanghART Beijing, 261 Cao Chang Di, Airport Side Rd., Chaoyang District, Beijing, China
Courtesy of the artist and ShanghART Beijing, for further information please visit www.shanghartgallery.com or contact infobj@shanghartgallery.com | + 86 10 6432 3202.

This exhibition was realized in cooperation with Postmasters gallery, NY
Related posts: