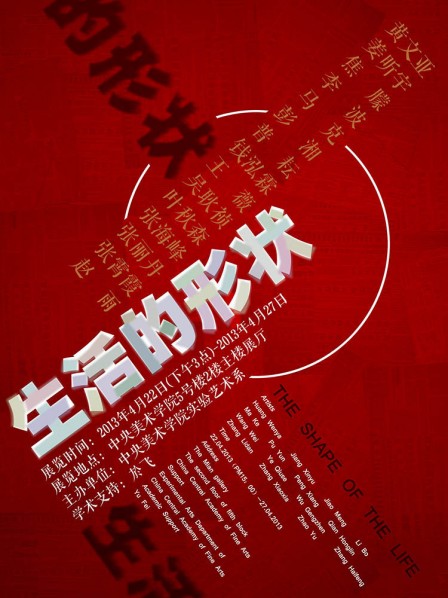 Shape of life presents a different form from each person's mind. While a sensitive person always pays attention to the fleeting impression. The exhibition is a collective appearance of the graduates of the Department of Experimental Art 2012, CAFA, proposed by Yu Fei, teacher of the Program Course, a group exhibition featuring the works created by graduates in their first semester of the Grade One. The genres of works include installation, video, new media, performance, etc., reflecting the unique understanding and interpretation of life by fifteen artists.
About the exhibition
Duration: 15:00, April 22 – April 27, 2013
Venue: The 2nd floor of the main building exhibition hall of Building 5, CAFA
Organizer: Department of Experimental Art, CAFA
Academic Adviser: Yu Fei
Artists: Huang Wenya, Jiang Xinyu, Jiao Meng, Li Bo, Ma Ke, Peng Xiang, Pu Yun, Qian Honglin, Wang Wei, Wu Gengzhen, Ye Qiusen, Zhang Haifeng, Zhang Lidan, Zhang Xiaoxia, Zhao Yu.
Translated by Chen Peihua and edited by Sue/CAFA ART INFO
Related posts: