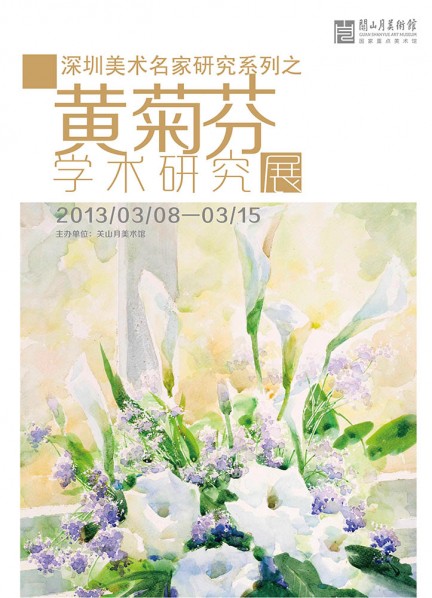 Guan Shanyue Art Museum launched the "Academic Research Exhibition of Huang Jufen" on March 8, 2013. The exhibition presents not only the history of Huang Jufen's life, but also the boundless enthusiasm and beauty embodied in a constraint dimension of life. Li Yong said, "Because of an unpleasant life, we desire to be moisturized by artistic beauty."
Born in Nanning, Guangxi Province, Huang Jufen (1944- December, 2011) graduated from the Guangzhou Academy of Fine Arts in 1968, and is the first female artist that moved to Shenzhen, and served in the Shenzhen Film Company, Cultural Center in Shenzhen, "Shenzhen Literary" magazine, and Shenzhen Academy of Art, where she is the only professional female painter. Like her peers, Huang Jufen was a member of the generation of painters that grew up with the PRC, thus both her life and art were deeply marked by the events of the period. Huang Jufen's early creations were impacted on by the paintings from the Soviet Union, his creations are themed around general social ideology, and gave her a solid foundation in realism. Along with the regression and liberation of humanity and the thinking due to the reforming and opening up of China, Huang Jufen began to express herself, actively creating work in various categories such as posters, cover designs, watercolors, Chinese paintings, oil paintings, etc., and gradually her personal artistic style emerged. She was famous for her representative ink works, the Ballet series, created in 1990s, her smooth lines, fresh colors, combination of ink and pattern, filled with the rhythms of the music and dance. Huang Jufen also had tirelessly explored oil painting, that was impacted on by Impressionism, her works were of rich color and nuanced, and fascinating.
As a female artist, Huang Jufen displayed typical femininity in her works, focusing on the emotional, experience of life, instinctive preference for beautiful elements in her world, such as flowers and landscapes, of pure and gentle expression, and full of a gentle female character. It was unfortunate that she was terminally ill at the prime of her life, enduring repeatedly chemotherapy, and withstanding the tremendous pain, she still insisted on creating with an optimism spirit, which is especially admirable.
Her late works are skillful and masterful, demonstrating a masterful demeanor, reflecting her love and praise to life and beauty.
About the exhibition
Shenzhen Outstanding Painters Series: Academic Research Exhibition of Huang Jufen
Duration: March 8 – March 15, 2013
Venue: at Central Hall, C Hall, Guan Shanyue Art Museum
Organizer: Shenzhen Guan Shanyue Art Museum.
Courtesy of the artist and Guan Shanyue Art Museum, for further information please visit www.gsyart.com.
Related posts: