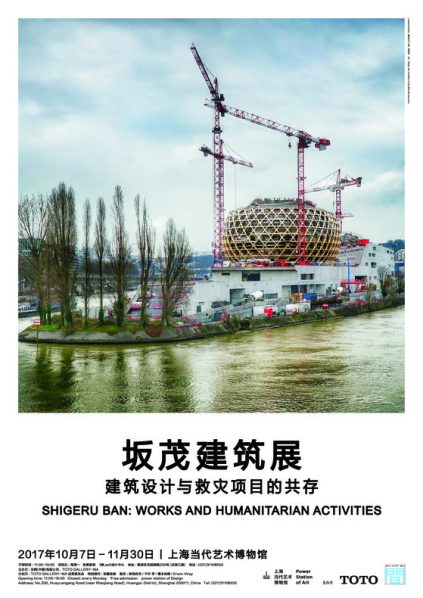 What is the architectural content to be presented possibly only by exhibitions? The meaning of exhibition planning lies in its ability to present the information that can't be communicated simply by reading magazines, books or other print media or by observing the physical building. Surely, you can see the completed model only at an exhibition. Compared with observing the model, the actually constructed building is of unparalleled meaning. The design process can be presented through print media, but, once a building is completed, you can't figure out how it is constructed. An exhibition can well combine the two and present more details.
The first half of the Exhibition will introduce the disaster relief projects across the world. Presentation is realized by focusing on the full-size model which gives priority to "Temporary Transition Resettlement Building in Kobe" followed by "Temporary Cylinder Paper School Building for Hualin Primary School in Chengdu ", "Sichuan Ya'an Cylinder Paper Kindergarten", "Paper Partition System for Shelter Use", "Cylinder Paper Church", "Cylinder Paper Kindergarten", "Nepal Restoration Project" and "Ecuador Paper Shelter".
The second half of the Exhibition will introduce the projects in progress and the projects in China ("Bamboo Restaurant", "Bamboo Furniture Home"). In the innermost exhibition space, we will demonstrate the process of completing "La Seine Musicale", a composite musical facility at the suburbs of Paris opened in the Spring of 2017. This project is at the west end of le Seguin, a mid-channel sandbar of Seine at the suburbs of Paris. Over the competition period of one and a half years, we won in April 2013. In this Exhibition, they will use full-size model and videos to present its 6-year design and construction process from the competition to its completion. Besides, this Exhibition will present the "Headquarter Building of Switzerland Watch Company", "Tainan Art Gallery" and "Yufu Tourist Information Center".
About the artist
Shigeru Ban was born in 1957. In 1980-1982, he studied at Department of Architecture Cooper Union (New York). In 1982-1983, he was employed at Arata Isozaki & Associates. In 1984, he graduated from Department of Architecture Cooper Union (New York) with the degree of Bachelor of Architecture. In 1985, he founded Shigeru Ban Architects. In 1995, he founded a NGO: Volunteer Architects Network (VAN). In 1995-1999, he founded UNHCR Consulting Firm. His works mainly include Nicolas G. Hayek Center (2007), Pompidou Centre (2010), OPAM (2014), and so on. Before that, he won Berlin Art Award- Hannover Architecture Exhibition Japan Pavilion (2000), French Architecture Institute Gold Award (2004), Arnold W. Brunner Architecture Memorial Award (2005), JIA Award Works Department (2009), Pritzker Architecture Prize (2014), French Art and Culture Medal Commandeur (2014), Asahi Prize (2015), JIA Japan Architecture Award (2016), and other awards. In 2001-2008, he was Professor of Environment and Information School of Keio University. In 2010, he was Guest Professor of Harvard University GSD and Guest Professor of Cornell University. He has been a professor of Kyoto University of Art and Design since 2011. Since 2015, he has been Distinguished Professor of Environment and Information School of Keio University.
About the exhibition
Dates: 2017.10.08 – 11.30
Venue: Power Station of Art
Courtesy of the artist and Power Station of Art, for further information please visit http://powerstationofart.org.
Related posts: