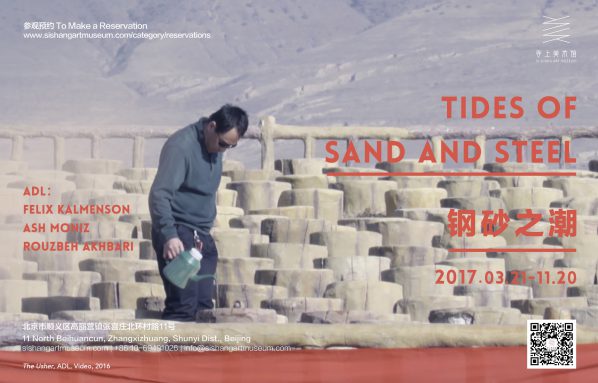 Si Shang Art Museum is pleased to announce that the Tides of Sand and Steel exhibition will open on 2017.03.21 and last until 2017.06.20. This exhibition is part of the International Artist Residency Project of Si Shang Art Museum. This project has been ongoing since 2015.
Tides of Sand and Steel is an exhibition by ADL, a research-based collective that uses video and installation practices to engage with site-specific socio-political concerns. The upcoming exhibition was developed during site visits in and around frontline communities impacted by desertification in China's interior, specifically Ningxia and Hebei Provinces. Throughout the research process the artists investigated state and non-state initiatives inecology remediation and extractive economies of the desert. This exhibition operates at the intersection of human geography and story telling, unpacking the narrativization of disaster ecologies and the historicization of resilience through environmental management.
With a criticality towards the role of journalistic, museological, and scientific practices, this exhibition follows a self-reflective research methodology and engages with the infrastructure and logistics of environmental remediation, and the reification of anti-desertification programs. Composed of large-scale video installations, critical reconstructions, displays, and affective engagements, Tides of Sand and Steel intersects a rigorous material engagement with an articulation of sublime encounter with moving landscapes.
About the artists
Felix Kalmenson is a Russian-born artist, with a practice in installation and video. His work is concerned with the mediation of histories and contemporary narratives by political, institutional and corporate bodies examining how innovations in the field of communication and technology serve to redefine publicness, sovereignty and power. Kalmenson has exhibited internationally including: ACAC (Aomori, Japan), Success (Perth), Museum Abteiberg (Germany), Minsheng Art Museum (Shanghai), AGO (Toronto), ZK/U Centerfor Art and Urbanistics (Berlin), Aaran Gallery (Tehran), Le Cube (Rabat), LaFabrique Culturelle des Anciens Abattoirs (Casablanca), Centro Negra (Blanca,Spain), The New Gallery (Calgary), and Pari Nadimi Gallery (Toronto). Recent residencies include Rupert (Vilnius), National Center for Contemporary Art (St.Petersburg), and Spaces (Cleveland).
Ash Moniz (1992) is a multi-disciplinary artist based between Cairo and Beijing. His work uses public interventions and performative reconfigurations to navigate through the overlapping mechanics, geographies, and abstractions of the circulation of goods, and situations. Moniz has shown with galleries and museums internationally, such as Kunsthal Aarhus (Aarhus), A307 Space (Beijing), Minsheng Museum (Shanghai), Birch Contemporary (Toronto), Le Cube (Rabat), Pari Nadimi Gallery (Toronto). Moniz holds a BFA from OCAD University (Toronto, 2014), had participated in the Mass Alexandria Independent Studio Program in 2016, and is a member of the artist collective ADL [Association for Decentering Landscapes]. He was the assistant curator of the AMNUA Museum in Nanjing in 2013/14, and was the director of the Boxes| Zones Quarters mobile residency/exhibition in Morocco, 2014.
Rouzbeh Akhbari is an Iranian installation and video artist whose practice is research-driven, often interventionist inapproach and situated at the interdisciplinary nexus of postcolonial theory, political economies and critical architecture. Akhbari's projects have appeared at journals such as Scapegoat, SHIFT and Prefix Photo. He has recentlyco-authored a chapter on Casablanca's urbanism for the upcoming Unsettling Colonial Modernity edited volume published by Cambridge Scholars.  His work has been exhibited locally and internationally at la Fabrique Culturelle des Abattoirs (Casablanca), Le Cube (Rabbat), Birch Contemporary (Toronto), 8-eleven (Toronto) Justina M. Barnicke (Toronto), Art Mur (Montreal) and Art Museum of Nanjing University (Nanjing). He is a founding member at the Association for Decentring Landscapes [ADL] and a current MVS fellow at Daniels Faculty of Architecture, Landscape and Design.
About the exhibition
Dates: Mar 21, 2017 – Jun 20, 2017
Opening: Mar 21, 2017, Tuesday
Venue: Si Shang Art Museum
Courtesy of the artists and Si Shang Art Museum, for further information please visit www.sishangartmuseum.com.

Related posts: