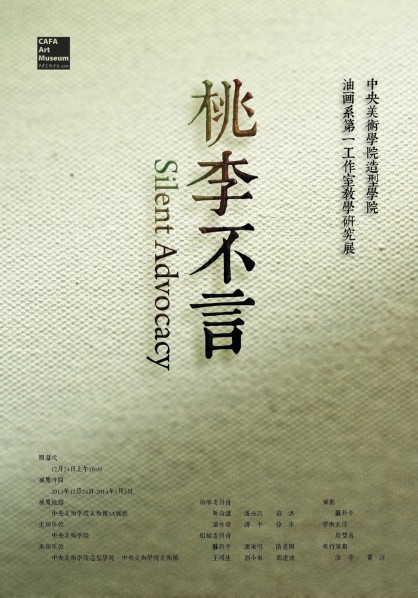 "Silent Advocacy: Teaching Research Exhibition of the First Studio of the Department of Oil Painting, CAFA" is the start of the series of exhibitions which are studied, combed through and planned by the Instructor Studio of the School of Plastic, CAFA, and it is about to open in the CAFA Art Museum. The exhibition is hosted by the CAFA, organized by the School of Plastic, CAFA, CAFA Art Museum; Prof. Su Xinping serves as the curator and Yin Shuangxi serves as academic director.
Recalling the paths of teaching development of various professional instructors of plastic art, although encountering a variety of issues and distress of different periods, the achievements were obvious, the cultivating group by group to a high-level, outstanding artistic talents, while still working with boundless vitality, and continuing to endlessly release potential and pay an irreplaceable role in a current socially cultural diverse development.
The First Studio is one of the earliest established studios in CAFA, and the earliest unit to conduct the teaching of oil painting in the form of studio work. In September 1959, the Department of Oil Painting set up three instructor studios, where Wu Zuoren led a studio, mainly studying European art; it was named "Wu Zuoren Studio" in 1960, and renamed "First Studio" the following year. Former and current instructors include Wu Zuoren, Ai Zhongxin, Jin Shangyi, Sun Weimin, Dai Ze, Liang Yulong, Wei Qimei, Pan Shixun, Wang Zhenghua, Wu Xiaochang, Chen Danqing, Yang Feiyun, Chao Ge, Hu Jiancheng, Gao Tianxiong, Sun Xun, Lin Xiaochu, etc. Since the establishment of the studio, it has always rigorously conducted the basic training of plastic art, strengthening the scientific and systematic training of basic skills, creating a combination of ontology research of oil painting and exploration of aesthetic principles. Since the reform and opening up, First Studio has continued with the exploration of Western plastic system, having a large number of teaching practices to realize aesthetic ideas, with the combination of a solid foundation and active thinking.
The exhibition combs through the teaching evolution of the First Studio, showcasing a total of more than 60 works of oil painting and drawing by the teachers and students of the First Studio, including well-known pieces such as "In the Lvshun Port" by Wu Zuoren, "Snow of the Forbidden City", "Young Woman Singer" and "Huang Binhong in His Old Age" by Jin Shangyi, "Tibet Group Paintings – Women Washing Their Hair" by Chen Danqing, "Sisters" by Yang Feiyun, "Qiqige and Her Prairie" by Chao Ge, etc., while it will also showcase a lot of valuable teaching files and historical literature. We hope the audience participate in the discussion on how to further adjust and perfect the teaching of the instructor studio of the School of Plastic, while they are concerned with teaching achievements of the First Studio.
The exhibition will continue until January 5, 2014.
Courtesy of the artists and First Studio, translated by Chen Peihua and edited by Sue/CAFA ART INFO.
Related posts: