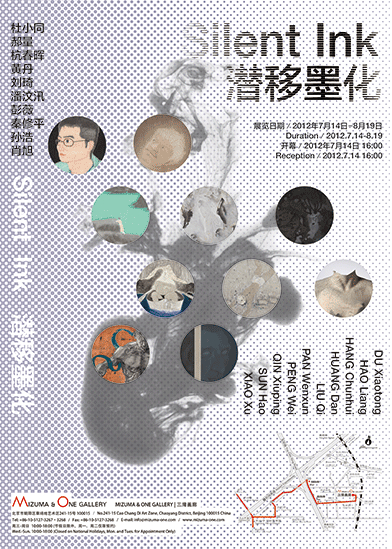 The group exhibition named "Silent Ink" presented by Mizuma & One Gallery was open on July 14, 2012. The show features works by ten artists, namely, DU Xiaotong, HAO Liang, HANG Chunhui, HUANG Dan, LIU Qi, PAN Wenxun, PENG Wei, QIN Xiuping, SUN Hao, and XIAO Xu.
Ink has been an indispensable medium for Chinese traditional painting, and the use of ink is a unique techné for the creation of Chinese works. As a mode of artistic expression, Chinese traditional painting has been evolving over historical eras. Under the influence of western culture, the aesthetic tradition associated with ink and brushes is being challenged, and Chinese traditional painting is being constantly reshaped for perfection. The artists featured in this show have worked with ink and brushes in the process of reshaping Chinese traditional painting. By virtue of their perennial cultivation and practice, the traditional mastery of ink and brushes has been part and parcel of the artists' second nature, while at the same time they have been influenced by new strands of thoughts. Insofar as ideas can manifest themselves in one's disposition, these artists have embodied an intersection between tradition and innovation, and their works have seamlessly incorporated their tradition in expressing contemporariness.
Artists: Du Xiaotong, Hao Liang, Hang Chunhui, Huang Dan, Liu Qi, Pan Wenxun,Peng Wei, Qin Xiuping, Sun Hao,Xiao Xu
Duration: 2012.7.14-8.19, Wed.- Sun. 10:00-18:00
Opening Reception: 2012.7.14 (Sat.) 16:00
Courtesy of the artists and Mizuma & One Gallery, for further information please visit www.mizuma-one.com.
Related posts: