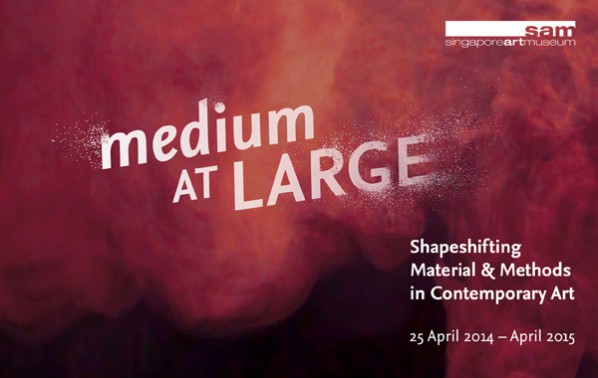 The year-long exhibition Medium at Large at Singapore Art Museum (SAM) revels in the rich expanse of materials that contemporary artworks can be made of, and from, as well as the very 'slipperiness' of media, as categories and genres begin to slide into one another. It explores the idea of medium in contemporary art, examining some of the most fundamental and pressing questions of art – its making, and also our experience, encounter and understanding of it.
Art has long been classified by genres and disciplines, such as painting, sculpture, and photography, yet in resisting the confines of traditional definitions, contemporary works often behave in genre-bending ways, where a painting may slide into video or a video performs like drawing and a drawing is painterly. In other instances, a work's specific medium also embodies the weight of its concept, symbolism and significance, and artists have incorporated an astonishing breadth of material in producing these works. The artwork media here range from oil paint, to rattan, human hair, whitening soap, live bullet shells, as well as 'dematerialised' media like sound, language and text.
Medium at Large draws 'largely' from SAM's permanent collection, and also includes loans and commissions from Singaporean, Southeast Asia, and Asian artists, the latter gesturing to the some of the dilemmas and challenges of collecting for posterity. Across 32 artworks, the exhibition at SAM probes and ponders the fluid – if ever-elusive – nature of art: of art's medium, at large.
About the exhibition
Duration: 25 Apr 2014 – April 2015
Venue: Singapore Art Museum
Courtesy of Singapore Art Museum, for further information please visit www.singaporeartmuseum.sg.
Related reviews on the exhibition: http://www.todayonline.com/entertainment/arts/arts-reviews/medium-large-45
Related posts: