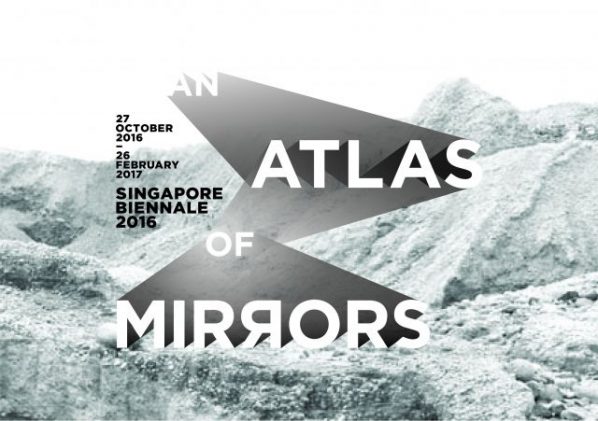 Exploring shared histories and current realities within and beyond the region, Singapore Biennale 2016 will be a constellation of artistic perspectives that provide unexpected ways of seeing the world and ourselves. Titled An Atlas of Mirrors, the international contemporary art exhibition will feature site-specific and never seen before contemporary artworks by more than 60 artists across Southeast Asia, and East and South Asia.
CURATORIAL STATEMENT:
SINGAPORE BIENNALE 2016 – AN ATLAS OF MIRRORS
From where we are, how do we picture the world – and ourselves?
In charting our way around the world, humankind has relied on instruments of vision as well as navigation. Atlases map and mirror our journeys of discovery and often make visible more than just physical terrains; driven by our needs and desires, they embolden us to venture into the unknown.
From our coordinates in Southeast Asia, the arc of our shared histories encompasses East and South Asia. These regions bear the imprints of one another's diverse cultures, even as boundaries are also constantly reimagined. Fraught and unstable, these borders are characterised by fluid movement and migration which also reflect pre-state national entities, and highlight the challenges that beset contemporary conditions.
Where navigational tools like the atlas – a compendium of maps – enable us to set our sights further afield, one instrument in particular – the mirror – brings us into that which is still so mysterious: the self. While we depend on mirrors to show us to ourselves, their reflective surfaces are not always reliable for they echo, skew, magnify and invert.
How will a coupling of an atlas and the curiosities of the mirror shift our perception of the world? Through combining the divergent literal and metaphorical characteristics of these devices, a new instrument of vision and thought is imagined, giving rise to a constellation of artistic perspectives which trace our migratory, intertwining histories and cultures.
An Atlas of Mirrors positions Southeast Asia as a vantage point through which we recognise our world anew.
About the exhibition
Dates: Oct 27, 2016 – Feb 26, 2017
Opening: Oct 27, 2016, Thursday
Artists: Sharmiza Abu Hassan, S. Chandrasekaran, Chou Shih Hsiung, Deng Guoyuan, Ding Debbie, Made Djirna, Gupta Subodh, Abeer Gupta, Gregory Halili, Faizal Hamdan, Agan Harahap, Kentaro Hiroki, Htein Lin, Jiao Xingtao, Sanjay Kak, Marine Ky, H.H. Lim, Lim Soo Ngee, Zulkifle Mahmod, Ni Youyu, Perception3, Qiu Zhijie, Niranjan Rajah, Nillima Sheikh, Praneet Soi, Adeela Suleman, Melati Suryodarmo, Nobuaki Takekawa, Tan Zi Hao, Tan Jack, Ryan Villamael, Wen Pulin, Made Wianta, Xiao Lu, Zang Honghua
Courtesy of Singapore Biennale, for further information please visit www.singaporebiennale.org.
Related posts: