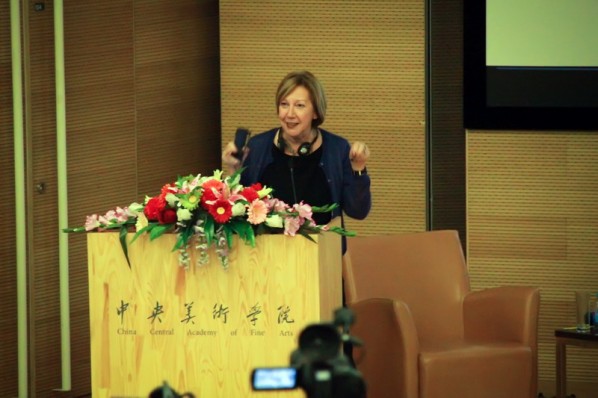 Themed "The Power of Art in Development Areas", the Sino-Dutch Public Art Forum was held in the Lecture Hall of CAFA Art Museum at 9:30am on November 22, 2012. As one of the cultural activities celebrating the 40th anniversary of diplomatic ties between China and the Netherlands, this seminar was co-organized by the Institute of Sculpture in the Department of Sculpture, CAFA, and VARIO MUNDO Public Art Foundation. Dutch guests including Ashok Bhalotra, architect, Hans van Houwelingen, artist, and Thaddeus Muller, sociologist, and Chinese guests including Li Xiaodong, architect, Zhu Yufan, landscape designer, Qin Pu, artist and Zhang Zhaohong, artist, successfully discussed and communicated the issue "The Power of Art in Development Areas".
Pan Gongkai, President of CAFA, Lv Pinchang, Professor of the Department of Sculpture, CAFA, Patrickde Vries, President of Press and Culture Department of the Embassy of the Kingdom of the Netherlands, and Ms Tamar Oosterlaar, Executive of Vario Mundo from the Netherlands had their opening speeches respectively at 9:30am.
Then scholars and artists from China and Holland gave their lectures. The speakers of first part were Qin Pu and Ashok Bhalotra. Qin Pu, a famous Chinese sculptor and working in the Institute of Sculpture, the Department of Sculpture of CAFA, gave a speech on the theme of "Art Intervention in Space & the Development Course of Public Art in the Last Three Decades in China". Being an "old artist" in the art circle since the 1980s, he was the witness of the development of public art in the last three decades in China. He talked about the public art base in his artworks in the 1980s. He said, artists' individual creations were presented in urban spaces, no longer with strong political factors as in those times, later, taking his works to the Olympic Games Park as an example he said individual factors were more and more important in the creation of public art, as well as improving the artists' level, but in fact it was the enlightenment period of the public art, and environmental art that exists. Chinese public art was still developing. With illustrations and texts, Qin Pu described the development course of public art in last three decades in China to help audiences get a preliminary concept of public art.
Ashok Bhalotra, Dutch architect, made a speech on "Sculpting the City is a Cultural Deed". He said, first of all, public art reflects artists' wisdom, integrated with artists' thoughts, the public are then able to interact with artworks. However, public art was not only beautiful but also reflects the impact of political and economic factors, for example, art and the real estate, art and the public, it is a cultural deed. He also said that city is a community not commodity, but the economic value of a city was considered too much, while the function of the interacting community was little thought about, in a city, public art served as a link of cultural exchange, people could communicate freely with each other by art, for which there are no boundaries and diversification. Finally, Ashok Bhalotra invoked all people to enjoy art. With globalization today, art is a smuggler and everywhere, intertwined with various cultures, so we should have an idea of diversification, accept it and enjoy it.
Following this were questions and discussions, two artists wittily answered the questions.
Then it was the time for Zhu Yufan, Chinese landscape designer, and Hans van Houwelingen, Dutch artist, to make their amazing speeches. Zhu Yufan is a famous landscape designer, and his speech's title was "Strength of DOF in Landscape Design". Zhu Yanfan described the important approach – Dept Of Field (DOF) in landscape design professionally. He said, the first thing you should do in landscape design was to seize the issue, and seek anything related to your context, in use of the power of nature. When he explained DOF in detail by slides, the audience understood that DOF was a kind of design to grasp the condition of the field, at the same time, DOF in landscape design made the field more charming.
Hans van Houwelingen, Dutch artist, had a speech themed "The Complex Role of Art in Public Space and the Situation He Has to Deal With as an Artist". He explained his ideas of art and public art using his four creations as an example. He said, we should reflect art, and when dealing with public art, we should think about the ideology of a city, whether it's possible for the public to get together in the urban public place made by public art, thus enjoying art together.
Following was the part of the presentations by Zhang Zhaohong, Chinese artist, and Li Xiaodong, Chinese architect. Zhang Zhaohong gave a speech themed "The Possibility of Public Space under Restrictive Conditions", he said that public art needs to be adjusted, deleting various limitations to make it easy, and displayed some clever and unique artworks he had done previously.
Because of some special reason, Li Xiaodong, Chinese architect, was absent, instead his assistant told us the architect's ideas and understandings. He initially briefly introduced the development of architecture in last three decades in China, Where would Chinese architecture go when art was free from the limitations of ideology gradually? Chinese architects had some explorations, starting from the symbolic, spirited by the differences between ancient and contemporary theories of cities. Then, he described 4 pieces of works by Li Xiaodong, along with his foremost idea of combination: artworks are the combination of geographical and modern features. For example, when Li Xiaodong designed the architecture on the Mount Satseto (Jade Dragon Snow Mountain/ Yulong Snow Mountain): Water Yard (Shuiyuan), initially he thought about its geographic features, its local conditions, while Mount Satseto was a magnificent and strong place, he thought, it would be no better than a flexible building. As a result, he built a water yard at the bottom of the mountain, which complements each other.
Finally, Thaddeus Muller, Dutch sociologist, made a speech on the social life of public art in the perspective of sociology. Art was of sociality, so that people could touch it, interact and communicate with each other in art, so Thaddeus Muller put forward an idea of a warm city, producing an interactive public place, when designing public art, a designer should think about who would use the place, and guide more people there, making the place warmer and more harmonious. We enjoyed his vivid, humorous and passionate speech.
The forum was closed with speeches made by Yu Fan, and Zhang Defeng, Professors of the Department of Sculpture, CAFA. All of the scholars and artists bowed to enthusiastic applause from the audience.
Text by Gao Yu/ CAFA ART INFO
Translated by Chen Peihua/ CAFA ART INFO
Related posts: