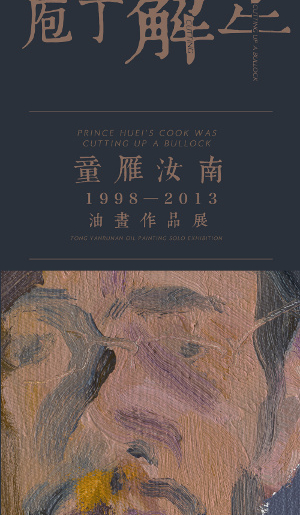 In Chinese contemporary art, 'Chinese elements' is the production which hunts for its existent way influenced by the western culture now. However, what's the direction for the Chinese contemporary art when the western art has no way to go?
The real spirit of Chinese art is to discover the origin of the art in the heart and disposition of the specific life, and then to get the release and free. This mind is balancement, introspective, infinite and complete. The life will bring forth an awakening of the whole. These portraits are different from the portraits in the art history. After they expurgate the illustration and expression, these difference faces with specific characteristics are included in the whole, free and perfect spirit of Chinese landscape paintings.
Tong Yan Runan has devoted himself to creating all of the works in the past 15 years as if it's still the first day to start his step to his art kingdom, his works are in the size of 41x33cm with the front faces all the time, which guides us to know his thought, such as Zen meditation to comprehend the essence of the nature.
Skilled and magical craftsmanship, is the existent freedom in the limits and the mind in the skills. It removing the antagonism between the object and subject and the distance from the skill and mind, in order to achieve the satisfied feeling due to the technological liberation, which facilitates the pure artistic sprit finally.
About the exhibition
Duration: Nov 3 – 11, 2013
Venue: Today Art Museum – 2nd floor exhibition hall of Building No.2
Opening: Nov 2, 2013 Sat 15:00
Courtesy of the artist and Today Art Museum, for futher information please visit www.todayartmuseum.com.
Related posts: