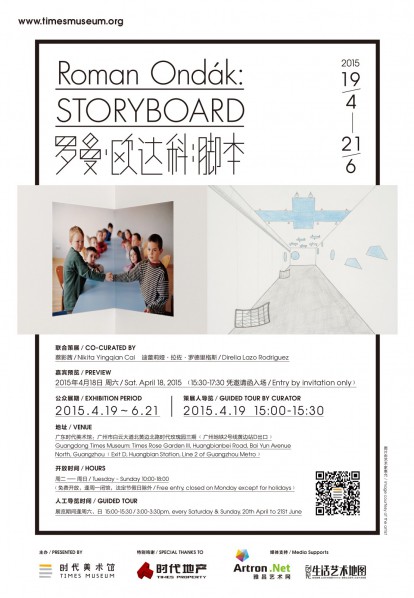 Storyboard is the first solo exhibition of the Slovak artist Roman Ondák in the greater China region, and the largest survey of this artist to be held in an Asian non-profit institution. Ondák's works have been shown in recent years at such major art events as the Venice Biennale, where he represented Slovakia in 2009, and Kassel dOCUMENTA (13). He has also exhibited many times at leading international museums including MoMA, New York; Tate Modern, London; Museo Nacional Centro de Arte Reina Sofía, Madrid; Deutsche Guggenheim, Berlin; and Musée d´Art Moderne de la Ville de Paris, among others. He was awarded Deutsche Bank's "Artist of the Year" in 2012.
Roman Ondák tends to take over exhibition spaces through subtle, destabilizing gestures. In his work, the space is understood as a "place" in which a series of events occur, redefining and reinterpreting both its physical dimensions as well as its identity. Roman Ondák: Storyboard addresses the artist's practices through the recurring relationship expressed in his work between the work itself, the space where it is exhibited, and the representation of the same, through a selection of installations, photographs and performances created between 1997 and 2015.
One of Ondák's artistic gestures defines the theme of this exhibition. Various drawings have been created by friends and relatives of the artist—including his parents, his wife Maya and his sons Adam and Martin—based on descriptions which Ondák himself made of the space of the Times Museum. The origin of the gesture lies in his piece Storyboard (2000), which has been revisited for this space. The placement of the individual drawing also represents the possible relation between the perspective of the drawing, the artwork situated next to it, and the experience of the viewer. In doing so, this expanded work functions as an "exhibition within the exhibition," reinterpreting elements expressed by the collective imagination—fragmented, imprecise, from those who only know the space through oral testimony.
This dialogue with the space acquires more personal connotations through the presence of works such as View from My Studio (2013), in which architectural elements of Ondàk's study are moved to the exhibition space for the duration of the show, or in Path (2008), in which a white cube is horizontally dissected at the level of the artist's height. One of the central pieces, Museum/Storage (1999), reveals a reflective artist who considers the museum space as its own entity. The inside of a table meant to be used by security guards has been stocked with a collection of objects assembled from different departments of the museum, becoming itself a micro version of the macro art institution. Another of the dialogues surrounding the space of the exhibition transcends the physical premises of the museum, seeking to connect with the visual quality and dynamics of its external urban surroundings. This can be seen in Crowd (2004), in which a group of people interrupted the preview as a flow of individuals who are only vaguely informed about their immediate situation; or when a parachute "accidentally" caught on the roof of the museum, or when postcards, featuring images of people declaring themselves antinomads, went travelling in the hands of visitors who decided to pick them up.
In this way, the exhibition allows space for a series of parallel narratives which describe, question, deny, stage, expand, and reject the physical boundaries of the museum, emphasizing the relevance of space and its migrations—physical and temporary—in the artistic practices of Roman Ondák.
Co-curated by Nikita Yingqian Cai & Direlia Lazo
Artist Biography
Roman Ondák (b. 1966) was born in Slovakia and now lives and works in Bratislava, Slovakia. Ondák's work, which may take the form of installation, photography, drawing, and performance art, explores specific situations, which very often involve people with which he shares some relationship. Asking them to follow his instructions while also interjecting their own creativity, the result is a controlled study of collective imagination, and the creation of a work of art with a multitude of participants. He deconstructs structures, hierarchies, sites or rituals and calls upon spectators to be an active part of the works and to become both art objects and the protagonists of a performance. Participation by the audience has an impact on the artist's critical consideration of concepts such as authorship, representation and identity.
Ondák's solo exhibitions include MoMA, New York; Tate Modern, London; Museo Nacional Centro de Arte Reina Sofía, Madrid; Modern Art Oxford; Deutsche Guggenheim, Berlin; K21, Düsseldorf; Musée d´Art Moderne de la Ville de Paris; Kunsthaus Zürich.
He has participated in group exhibitions at the Museum of Contemporary Art, Chicago; Centre Pompidou, Paris; Stedelijk Museum, Amsterdam; Hamburger Bahnhof – Museum für Gegenwartkunst, Berlin; Fundación Jumex, Mexico City; 27th Bienal São Paulo; 7th Shanghai Biennale; 50th, 53rd and 54th Venice Biennale; 6th Berlin Biennale; documenta (13), Kassel; and 10th Gwangju Biennale.
The performances Swap (2011) and Resistance (2006) will be carried out during the entire exhibition period from April 19 to June 21, 2015.
Public Programs: The "A Hundred People" Series
Event Period: April 18 to 21 June, 2015
In the performance of Crowd (2004), a larger than usual group of people suddenly appears at the opening of Ondák's exhibition. One might notice that their route has been loosely orchestrated, and the members of the crowd are only vaguely informed about their immediate situation. Series of public events such as the open call for "A Hundred Verses of the Moment" and for "A Hundred Postcards" will happen during the exhibition period. For further information about these events, please search for "GDTIMESMUSEM" wechat subscription account and follow our updates. We will develop collaborations with various cultural organizations, ranging from poetry, toys, theater and music.
About the exhibition
Presented by: Guangdong Times Museum
Special Thanks to: Times Property
Preview: 15:30-17:30, Saturday, 18 April 2015 (invitation only)
Exhibition Period: April 19 to June 21, 2015
Guided Tour by Curator: 15:00-15:30 April 19, 2015
Hours: Tuesday – Sunday, 10am-6pm (Free entry, closed on Monday except for holidays)
Guided Tour: 3:00-3:30pm, 25 April – 21 June 2015, every Saturday & Sunday
Tel: + 8620 26272363
Courtesy of the artist and Guangdong Times Museum, for further information please visit www.timesmuseum.org.
Related posts: