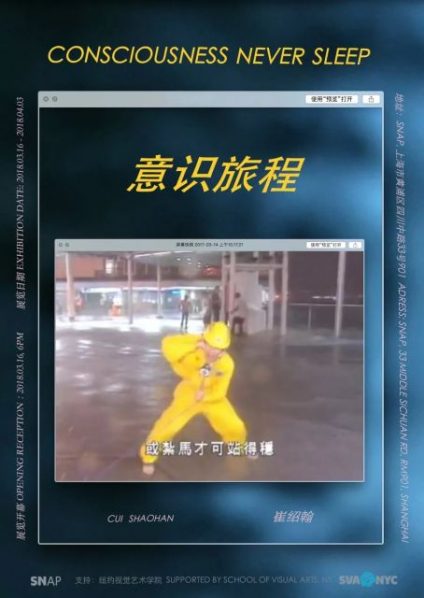 Cui Shaohan was born in 1985, Zhengding, Hebei Province. He graduated from the New Media Department at China Academy of Art in 2008. He lives and works in Hangzhou. Being an active member of the Double Fly Art Center collective has shaped his way of thinking about the transformation of the body and consciousness.
The artist uses found images and videos from the internet, then edits them with footage of his own performance. Switching between the role of the performer and director, Cui investigates his own life and reconstructs reality through his work.
This exhibition presents text and video work Cui has made in the past 2-3 years. The main work in the show is an eight-channel video installation called HowI become myself – An in-depth performance exercise. The work uses the first-person narrative, detailing a journey of personal consciousness enlightenment. The audience will find the progress of the protagonist's return to reality after his philosophical pursuit of existence. Through his work, Cui intends to discuss the idea of "non-doing" as well as the peculiar experience between the real world and the conscious world.
About the exhibition
Dates: Mar 16, 2018 – Apr 3, 2018
Venue: SNAP
Courtesy of the artist and SNAP, for further information please visit www.snapgalleries.com.
Related posts: