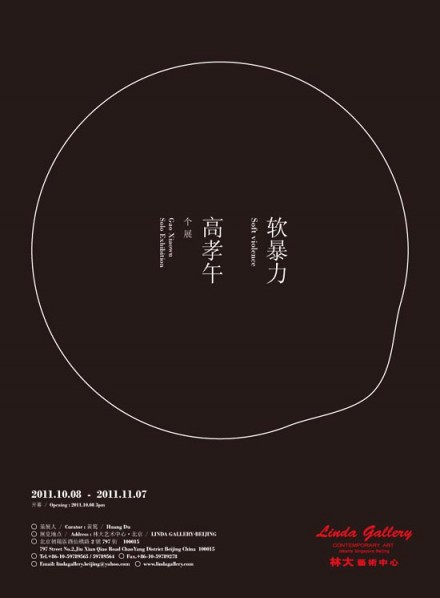 Curated by Huang Du, the Linda Galleries, Beijing announces the opening of a new Gao Xiaowu solo exhibition on October 8th, 2011. It features the sculptures he has created after 2008 which are "thematic" ones after his series of Standard Age, Our Generation, the City Dreams. Compared with his previous series of works, his new creations have new transformations in artistic concepts and forms, as well as a new tendency for diversity and installation.
The sculptor's point of view turns from the virtual subject of matter and the formalized aesthetic to his deliberation on social phenomena and human environment which is his concern and analysis on the many invisible problems bred by urban development. Thus he comprehends visual images, voice and media discourse as a kind of soft violence. What is soft violence? It is a kind of violence beyond offensive mandatory violence and it is manifested as a recessive characteristic, more specifically a kind of violence posing as a soft, exhorting and comforting gesture. It is a visual violence connected with images and information.
When talking about the meaning of art in contemporary society, Gao Xiaowu believes that "Art should have a feature of reminder, like a warning sign." His current solo exhibition entitled "Soft Violence" vividly depicts the thinking on some problems which should not be neglected by people, which indicates not only a feeling of violence from direct injury, but also a silent kind of soft violence which affects human life. Taking metaphorical and abstract artistic language, the artist expresses his anxiety and critique on the real-world problems through the sculptural language of exaggeration and distortion. Cars, housing, children, consumers, information, belief and appearance of the city are composed of his subjective display and analysis from his "soft violent" perspective. Therefore, Gao Xiaowu's new solo exhibition with both soft and witty humor enables the viewer to derive inspiration and serious reflections from it.
Gao Xiaowu Biography
1976 Born in Fujian
1999 Graduated from Fujian Xiamen Arts and Crafts Academy Sculpture Department
2004 Graduated from Central Art Academy Sculpture Department
Currently based in Beijing
Selected Exhibitions
2008
Shanghai MoCA Envisage II – Butterfly Dream, Shanghai;
The First Annual Moon River Sculpture Festival –The Origin, Beijing;
100 Tales in Animamix, Beijing;
Art Basel Miami Beach, America;
East Meets West: A Multi-Media Experience to Entice the Senses, Shanghai;
SongZhuang Art Festival, Beijing;
"Surfing Animamix"Shanghai, Shanghai;
The 2nd Asia Pacific Contemporary Art Fair, Shanghai;
The 3rd Nanjing Triennial, Nanjing;
Gao Xiaowu's Sculpture Solo exhibition, Taiwan;
2007
"Our Generation" Gao Xiaowu's Sculpture Solo exhibition, Beijing;
"From Modernity to Eternity," the second cartoon aesthetic Biennial, Shanghai;
Floating New Generation of Art in China, Korea;
798 Art Festival, Beijing;
FESTIVAL INTERNATIONAL-EXIT-"ANIMANGA", Paris, France;
Special Exhibition in 798 Art Festival, Beijing 798;
2006
Christmas is approaching, Zendai Museum of Modern Art, Shanghai;
"Fiction@Love International" touring exhibition;
City Dream, Beijing (solo);
Chinese Art Today 2006 Exhibition, Beijing;
Art Singapore2006, Singapore;
"Illusion City" Gao Xiaowu and "Tamen" Art Show, Beijing;
The Dawn of Meaning, Beijing;
2005
"Era of Luxury" China Contemporary Sculpture Exhibition, Tianjin
SBM (Autumn) Art Show, Shanghai
Beijing International Art Biennale Satellite Exhibition, Beijing
Collision: Art and Performance, Shanghai
Sino-French Contemporary Art Exhibition, Beijing
The 1st China International Animated Art Festival, Hangzhou
2004
Gallery of China Art Academy Exhibition, Beijing
Sculpture Movement, Jianwai SOHO, Beijing (solo)
Standard Age: Action of Sculpture, Jianwai SOHO, Beijing (solo)
Related posts: