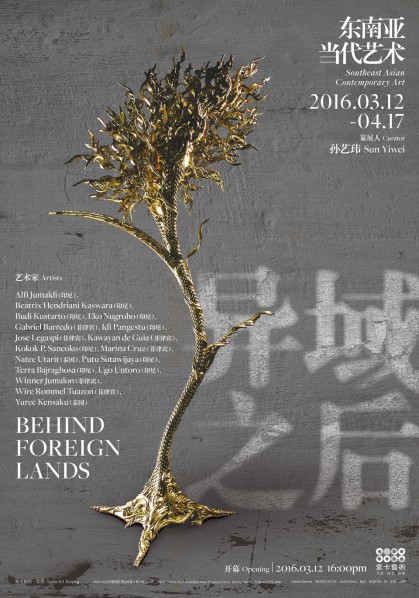 The latest exhibition on view at Soka Art Center include art works by 17 Southeast Asian artists from Philippines, Thailand, Indonesia. The exhibition is intended to showcase the contemporary art scene in Southeast Asia "behind foreign lands". Art in Southeast Asia belongs to the outcome that traditional cultures integrate with foreign ones. Similarly, they have the influences from European and American art, also they have researched and developed them, and further they self-consciously bring vitality to their own national culture. How do their overall style and features distinguish from the art is taking place in China? There are similarities as well as totally different perspectives. Behind foreign lands, how do they appear to be a completely different scene or a similar one to Chinese contemporary art? In the latest era of economic globalization that we undergo the integration of the Internet and we share resources unlimitedly. The differentiation among artists from various regions or countries is becoming less obvious and behind the fact of the visual image seems to be gradually beyond the constraint of space, is the deformable combination of culture collections behind foreign lands.
About the exhibition
Behind Foreign Lands – Southeast Asian Contemporary Art
Curator: Sun Yiwei
Artists: Alfi Jumaldi, Beatrix Hendriani Kaswara, Budi Kustarto, Eko Nugroho, Gabriel Barredo, Idi Pangestu, Jose Legaspi, Kawayan de Guia, Kokok P. Sancoko, Marina Cruz, Natee Utarit, Putu Sutawijaya, Terra Bajraghosa, Ugo Untoro, Winner Jumalon, Wire Rommel Tuazon, Yuree Kensaku
Opening: 2016.03.12 16:00pm
Duration: 2016.03.12-04.17
Venue: Soka Art Beijing
Courtesy of the artists and Soka Art Beijing, edited by Sue/CAFA ART INFO, for further information please visit www.soka-art.com.
Related posts: