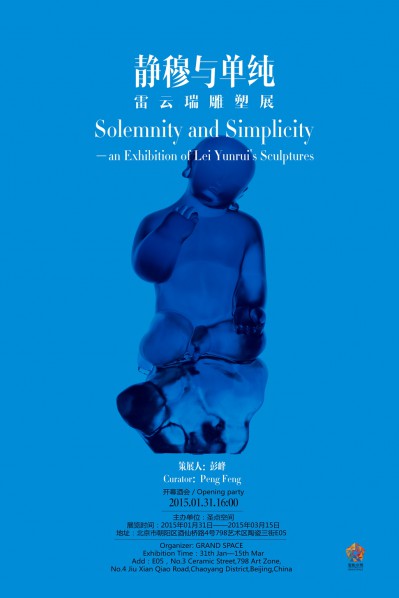 On January 31, planned by the famous curator Peng Feng, hosted by Grand Space, in collaboration with the Yitai Gallery, "Solemnity and Simplicity" Exhibition of Lei Yunrui's Sculptures was unveiled at the Grand Space. The exhibition features 24 figures of Buddha in different shapes and colors, which are as clear as crystal, and beautiful.
Curator Peng Feng said: "Lei Yunrui's creative inspiration comes from the Bible, God created men, and Lei Yunrui is curious about the images of humans initially created by God. Surprisingly, we see a group of images of children created on the basis of the sculptures of Buddhist statues. The sculptures combined doctrines of Buddhism and Christianity, the expressions of children and adults show that Lei Yunrui is determined in exploring the beginning of human beings in board terms, rather than illustrating the Bible. "The beginning of human beings" refers to "creation of man" in the sense of religion, the "birth" in the physical sense, and also the "original" or "original kindness". In other words, Lei Yunrui's thinking is not a question of history and anthropology, as he studies the original appearance of human beings, nor a physiological or biological question, like the appearance of human beings when they are born, but a general philosophical question, namely the original appearance of human beings, meaning the original which cannot be polluted. It is called "the beginning of human beings" in board terms.
Lei Yunrui is pious and revered with art, strict and dissatisfied with himself, making a new breakthrough in this "Paradise" series show. It created man on "The 7th Day" 7 years ago, while it reveals the "creator", "his" creation, compassion, love, "his" peace, enlightenment, knowledge, acceptance in the "Paradise" show. Although "he" looks like a weak child, his body contains the power of a creator.
Artist Statement
"God used dust to create men on the 6th day, and gave them the original home the Garden of Eden. If God exists, the dust must have its' own language. I believe in the existence of God, so I constantly pursue the dialogue with seemingly silent porcelain clay. So as the God in my mind is as long as ephemeral life over time, then the world will be able to hear my whispering with my porcelain clay objects."
The exhibition continues to March 15.
About the Artist
Lei Yunrui was born in Fujian Province in 1978, and was admitted to the Academy of Arts & Design, Tsinghua University as the champion of the professional exam, specializing in metal and learned from Miyada Yamazaki, President of Tokyo National University of Fine Arts and Music in 1999.
Exhibitions
2010 Asia Artexpo Taiwan Life Aesthetic Pavilion Group Exhibition
2009 "Creating Men the 7th Day" Lei Yunrui Solo Exhibition, Beijing No.3 European Art Museum
2009 Xiamen "98 CIFIT" Panxi Art Exhibition
2007 China International Gallery Exposition
2006 SH Contemporary
2005 Aquarium International Sculpture Exhibition
2005 Group Exhibition of Sculpture by the Ministry of Foreign Affair of the People's Republic of China
2004 Lei Yunrui Metal Work Solo Exhibition, Today Art Museum
2003 Lei Yunrui Metal Sculptural Work Solo Exhibition, Academy of Arts & Design, Tsinghua University
Publications:
2014 Sculptural Yearbook
2010 Chinese Contemporary Art Weekly vol.064
2004 Sculpture magazine vol.6, page 55
Courtesy of the artist and the Grand Space, translated by Chen Peihua and edited by Sue/CAFA ART INFO
Related posts: