Arario Gallery Cheonan is pleased to present a solo exhibition by Li Fan (b. 1966, China) "Homage to Life" from 17 Dec 2013 to 23 Feb 2014. The exhibition presents a total of over 100 works by the artist completed in Paris, New York, Jeju and Beijing over the past 10 years since 2000, describing feeling and expression of ordinary people. Through the people in the Li Fan's works who sing for life with motion of freedom and hope, Arario Gallery provides audience with valuable experience New Year's resolution beforehand.
People in his works usually take a very dramatic and exaggerated pose, but in format, they are expressed in traditional Chinese technique, such as emphasized beauty of line and margin or distributed ink on canvas. Unprecedented large scale, erotic and playful expressions are contrary to a theme's seriousness. As showing conceptual topics like personal emotion and social taboo through others' and his lives, his unique way of thinking is revealed.
Especially, 'Above the Clouds' series was created in Paris and New York in 2000 and 2005 respectively, and the series freely embodies an images of people in a new city from a view of the third person. Dozens of drawings he worked in New York are arranged with his texts which show the artist's consideration to human and life.
I try to treat surroundings with a light heart.
Less heavy, less pain, but more natural, and more sincerely.
I look at the inside of my mind like stealing a glance.
Listening to my heart undetected by others is more natural.
– Li Fan
Li Fan is already praised for modernized traditional ink painting based on contemporary people's life. Large-scale oil painting shows consistent changes technically as well as his ink painting obtains diversity of material. However, despite of various medium, Li Fan's artworks start from affection for the life he basically has. He focuses on the life, and never gives up a belief on human so that his humanity and affection become a basis of his work.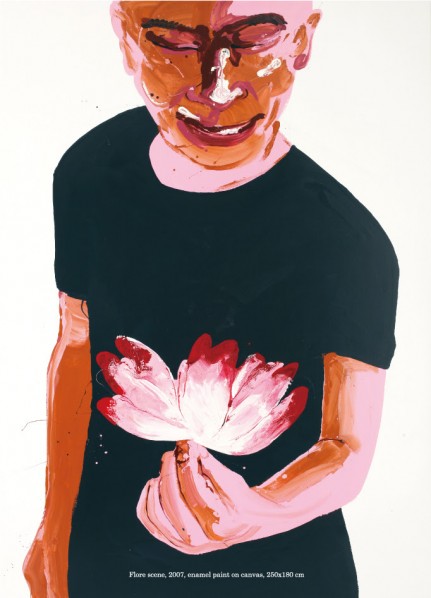 About the exhibition
Opening Reception & Artist Talk: 17th December Tue 5pm
Duration: 17 December, 2013 through to 23 February, 2014
Venue: Arario Gallery Cheonan
Address: #354-1 Shinbu-dong, Dongnam-gu, Cheonan-si, Chungcheongnam-do, Korea 330-160
T +82 41 551 5100 5101 F +82 41 551 5102 Monday-Sunday : 11am – 7pm
© Li Fan courtesy of the artist and Arario Gallery, for further information please visit www.ararioseoul.com.
Related posts: