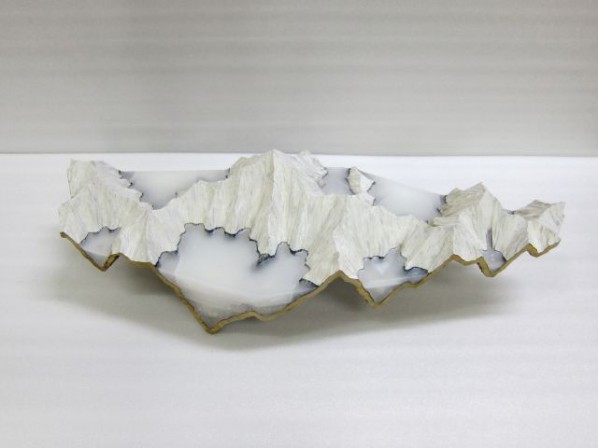 Born in 1987, Kensuke Karasawa is presently a PhD student of Fine Art Sculpture at Kanazawa College of ART. His graduate and PhD advisors include Kishio Suga (one of the most important Mono-ha artists), and Tatsuo Kawaguchi, important conceptual artist and educator (graduate advisor of Cai Guo-Qiang).
He was about to be a carpenter before in his 3rd year in college, cause he attached great importance to the production process and enjoyed a lot and know very well about carpentry materials and technologies. In 2012, he used the wax for the first time in his work "To Abyss", which not only enriched the imago of the work but also enabled more possibilities in his processing experiences. Overcome the restriction of "subtracting", his artistic expression is more pluralistic.
His work series of "To Abyss", "Continuous Horizon", "Depth of Perspective" and "Trace of Perspective" are all about "viewing". For example, in "Continuous Horizon" Series I, he has demonstrated a complete process from a worm's eye view to a bird's-eye view. In "Continuous Horizon" Series II and III, he discussed about the "under the skin", a dimension which we could not see through our eyes. While "Depth of Perspective" series guided us to break through the restriction of distance by resembling and demonstrating the sceneries in a freer way. He has always hoped that he could create a kind of "boundary" through which he could share with the audiences what he had felt when encountering with the nature.
About the exhibition
Dates: Mar 7, 2015 – Apr 3, 2015
Opening: Mar 7, 2015, 15:00, Saturday
Venue: Star Gallery
Courtesy of artist and Star Gallery, for further information please visit www.stargallery.cn.
Related posts: