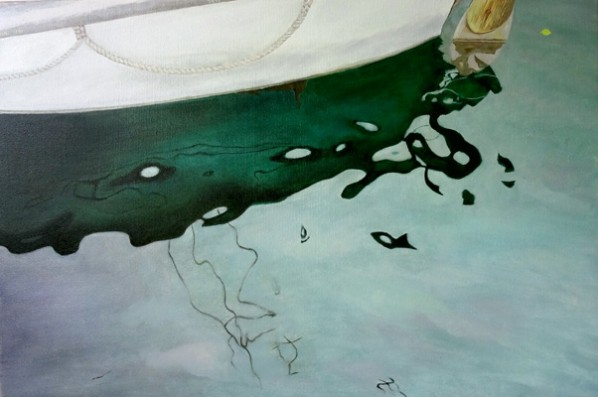 Art Beatus (Vancouver) Consultancy Ltd. is pleased to present "SPRING • WATER", featuring oil on canvas paintings by Vancouver-based Chinese-Canadian artist, JUNE YUN. The water paintings, created from 2011 to 2013, are in part, a continuation of the artist's Lemon Traveling series in which a tiny lemon accompanies Yun, experiencing many of the things the artist experiences in her travels. The lemon also makes an appearance in many of the artist's paintings, and in this particular series, can be found among scenes of calm, cool, watery landscapes.
Painting is life meditation for Yun; it calms and comforts. "Water gives me softness and peacefulness, and of course water is so beautiful. It can be many different forms and colours. Sometimes water is a dancing snowflake, sometimes a crystal like ice; sometimes in the sky, a flying cloud, and sometimes it wraps us in fog. It can be fresh, transparent, blue, pink, green, gold, grey, giving me my palette for this new body of work."
June Yun's artwork builds on the edge of Eastern and Western cultures, a result of her experiences living and travelling in China, Europe, and Canada. Looking back on her origins, Yun transforms her appreciation of Eastern culture into visual forms of oil painting, drawing, video, and installation; they are her framed thoughts, sublimating her inside words and passions.
Educated at Anhui Normal University and graduating from the Central Academy of Fine Arts in Beijing with a major in painting, June Yun continued her studies in England, receiving a Masters of Fine Art from the University of Newcastle Upon Tyne in 2000. She has taught art in universities and art institutions in China and Canada, most recently Emily Carr University. Yun has been exhibiting nationally and internationally since 2000 – most notably Beijing, Shanghai, Xiamen, Marseille, Brussels, and in Great Britain. In Canada, she has had exhibitions at the Banff Centre, Richmond Art Gallery and Centre A. In 2011, her work was shown in the Himalayas Art Museum in Shanghai. SPRING • WATER runs from April 5, 2013 to May 31, 2013 and is JUNE YUN'S first solo exhibition with Art Beatus.
Courtesy of the artist and Art Beatus, for further information please visit www.artbeatus.com or call the gallery at 1 (604) 688-2633.
Related posts: