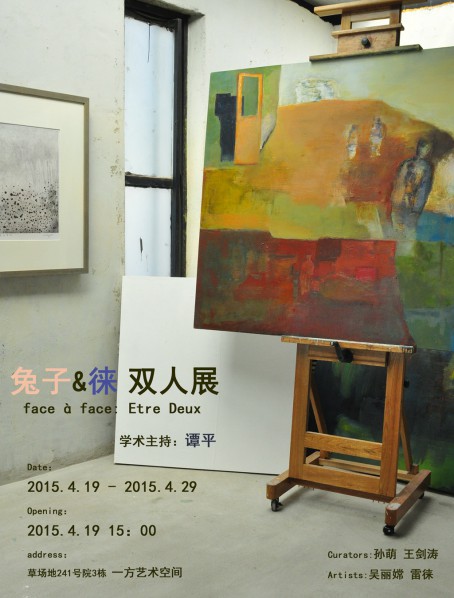 "Double Solo Exhibitions by Wu Lichang & Lei Lai: face à face, Entre Deux" opened at Yifang Art Space in Caochangdi at 4:00 pm on April 19, 2015. The exhibition showcases the creation of various media by the young artists Wu Lichang& Lei Lai, who both graduated from the Department of Printmaking, CAFA within the last three years, it is expected that the audience will exchange the work face à face, entre Deux, namely having a common ground while reserving differences, and sympathetically understanding.
Themes of the works by Wu Lichang and Lei Lai (Lei Boyuan) originated in their everyday lives.
Wu Lichang is from Macau, when she began studying in the studio, her understanding of art was still in its infancy. After 3 years of diligently studying in CAFA, she created a large number of excellent works. Taking copperplate etching as the main media for her creations, she presents her different feelings brought on by the changes in the environment and life from Macau to Beijing. The majority of her works are in an abstract form, the composition of work is made up of the most concise dots and lines, the intertwined lines and dots are like people encountering others in the real world, which is full of contingency and necessity. Despite the way of life and direction of people's lives, everyone is different. People subtly and naturally meet through the procession of life. The seemingly ordinary but indispensable emotional communication happens in life to inspire her creation. Through her concise works, we can feel the changes of life and the fact that emotion has a positive impact on art.
The work of Lei Lai (Boyuan) unconsciously and intuitively creates multiple narrative image she freely generated a possible, new and tortuous story. Intuitively "decoding" the story behind the story – a lonely literature where youths suffer self-pity, and are unable to integrate into society, instead they experience a mass confusion and pains of the modern social mechanism. His work is intentionally a pursuit of the rough instead of elegance, and almost regardless of the general regularity of art production, without careful processing, it deliberately produces an invisible barrier between the viewer and pictorial situation. It traces the inner stirring of the artist in the mist.
Double solo exhibitions by Wu Lichang& Lei Lai summarize their personal lives and emotions, and reviewsthe growing path of the art creation.
Text by Professor Tan Ping, Vice President of the China NationalAcademy of Arts
Translated by Chen Peihua and edited by Sue/CAFA ART INFO
About the Exhibition
Title: face à face: Entre Deux
Academic Director: Tan Ping
Curators: Sun Meng and Wang Jiantao
Artists: Wu Lichang, Lei Lai
Opening: 4:00 pm on April 19, 2015
Duration: April 19 – April 29, 2015
Venue: Yifang Art Space, Building 3, 241 Caochangdi, Chaoyang District, Beijing
Related posts: