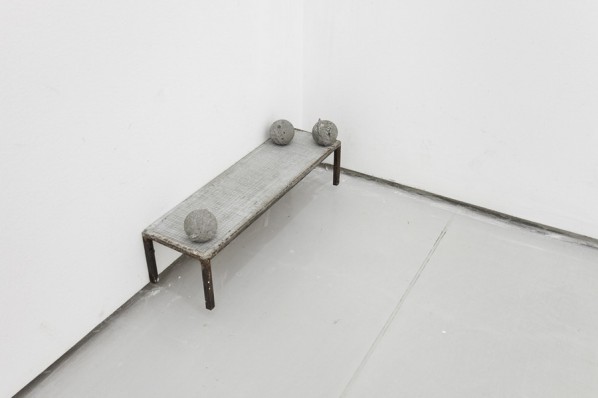 On May 18, 2013, Wang Qiang's "Holzwege", Liu Ren & Zhang Ruyi's "Filtrate" and Gao Ludi's "gū dú", four solo exhibitions opened at the White Space Beijing together, and they will remain until July 30, 2013.
Wang Qiang: Holzwege
In Wang Qiang's recent paintings, the image materials he uses are not merely copies of coloring representations, but a parallel to his thoughts on paintings. While creating the figures and textures of the realistic world, Wang places himself in a Euclidean space where everyday life generates diverse possibilities. Through confirming the two dimensional inter-relations of the specific features of the world, he refines the daily diversity into a rational visual language – the images of Wang's paintings approach infinity with the reproductions of images, yet "elevates" the realistic precision during the process of creation, which clearly defines the boundaries between the fields of paintings and images. German philosopher Heidegger and American poet Frost both borrowed the metaphor of "path in the forest" in their work. According to the philosopher, the ones who recognize the path in the forest must be professional forest rangers, while for the poet, the path becomes a life long journey with no way to return. To Wang Qiang, the forest path is where the professionals meet life journeys, because the 'precision' paintings represent the unreachable that can only be perceived.
This is Wang Qiang's second solo exhibition at WHITE SPACE BEIJING, showcasing his latest paintings over the past year. Wang Qiang was born in Beijing in 1971. He graduated from the Oil Painting Department, China Central Academy of Fine Arts in 1997; Staatliche Kunstakademie Düsseldorf in 2004. Wang now lives and works in Beijing, China.
Liu Ren & Zhang Ruyi: Filtrate
"Filtrate" consists of two solo exhibitions by Liu Ren and Zhang Ruyi who both spontaneously extend their willpower chronologically and, in a rationalized and progressive way, converting the objects of their practice into a porous powerful unit that filtrates and carries emotional media for discussion and the output of their own individual consciousness.
Time and life always remains a motif for Liu Ren. He connects himself with the outside world while processing the material and the source of information. The whole process of his practice is like a transfer station, as the subjective feelings and the objective reality meet and ferment here, presenting themselves in the form of "a manual microblog", or implying a minimalist installation- what is hidden behind the clear and neat visual state is an emotional accumulation that can be stripped off layer by layer.
Zhang Ruyi takes control of her expression of emotions in a repetitive and closed way. Her works restore individuals' state of being in the industrialized social ecology and mechanism, revealing her independent perspective and stand toward the experiential value as an artist, and prompts the individual consciousness under the pressure of the enormous external environment. As her capacity allows, she switches her daily life with the discordance of the urban life, detecting resistance by means of experience and observation, building an enclosure in communication, and filtrates all the sentiments imposed by reality in the repetitive and slow practice.
Born in Shanghai in 1983, Liu Ren graduated in 2007 from the College of Fine Arts, Shanghai University. Currently living and working in Shanghai.
Born in Shanghai in 1985, Zhang Ruyi graduated with a Master's degree from College of Fine Arts, Shanghai University, in 2012. Currently living and working in Shanghai.
Gao Ludi: gū dú
Gao Ludi will present his latest works at "gū dú", his first solo exhibition in WHITE SPACE BEIJING. It has been Gao Ludi's primary concern to focus on and explore the pictorial language as a medium. Color, images and style often go beyond the set theme. By means of his own body, the artist tries to shape painting as a language presentation that roams and evolves in different spaces.
As the title,"gū dú", is equivalent to "loneliness" in Chinese (孤独), it is the motive for his recent paintings that vividly depict his inner world while he is painting and his (his peers's as well)state of mind while he is in contact with others in his family and society. He surfed the Internet for pictures with the three entry words, i.e.,"孤独", "gū dú", and "loneliness", and depicted them in a selective way, thereby adding a dimension of rule to art like a game, as well as revealing the unimaginable difference that words of similar meaning can have in a graphic world. He also employs sticks in his paintings, as well as plenty of lines, so that the traces left by the sticks can generate inexplicable mysticism in the definite and indefinite contrast.
Gao Ludi, born in1990 in Henan, graduated from Oil Painting Department, Capital Normal University in 2012. Currently lives and works in Beijing.
About the exhibition
Organizer: WHITE SPACE BEIJING
Date: May 18 – July 30, 2013
Location: No.255 Caochangdi, Airport Service Road, Chaoyang District, Beijing, P.R.China
Courtesy of the artists and White Space Beijing, for futher information please visit www.whitespace-beijing.com.
Related posts: