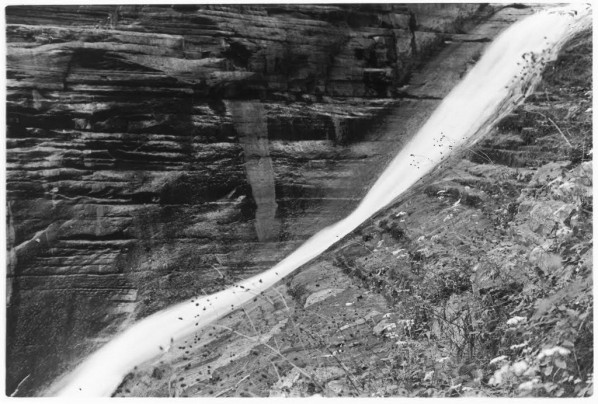 With this new exhibition at Jiali Gallery, after several years of inquiries in the field of social intervention, installation and participatory practice, Ma Yongfeng simoultaneously, comes back to photography and back to the white box. The way he does it, with the "Suspending" serie marks an interesting and pivotal phase of his artistic expression. These small gelatin silver photographs embody a way to look, in which contemporary issues and the need to build a bridge with Chinese traditional culture meet in a discreet but transformative way.
The images have been printed in small formats, slightly irregular, whose range is dictated by the size of the vintage paper.The small size and the relatively large number of images lead the viewer through an intimate experience during which time slows down: to see all the pictures we need to get close and to spend several minutes.
Most of Ma Yongfeng images taken one by one, seem informal inquiries into forms and motives of Chinese history, art and philosophy, (with nature as a key metaphorical element) but their narrative and hierarchy are disrupted in each series, by an unexpected element whose intrusion opens the possibility to make new associations and find new meanings which cannot be controlled or predicted anymore: nor by the artist, neither by the viewer.
The "suspending" series is also an interesting way to cast a bridge between the language of traditional Chinese art and the contemporary one.In the whole process of shooting, developing the images and putting them together for this exhibition, Ma's process reminds a famous exercise Jerzy Grotowsky used in his Poor Theatre training:when a person is trying to learn and sing an old anonymous popular song from the past for the first time, he is constantly searching in a playful but accurate way, for the rhythm of the melody and the sound of the words, until an uncertain but extremely lively connection appears.
With Suspending, Ma Yongfeng suggests to us we should slow down and step aside from the speed and brutality of the outside world and stand still and listen carefully. He invites us to re-invent our inner landscapes and cultivate the potential for change until the right occasion, like the half-head of the Buddha, will emerge from the border.
– Alessandro Rolandi, Beijing 2014
About the exhibition
Dates: Mar 15, 2014 – Apr 26, 2014
Opening: Mar 15, 2014, 16:00, Saturday
Venue: Jiali Gallery
Courtesy of the artist and Jiali Gallery, for further information please visit www.jialigallery.com.
Related posts: