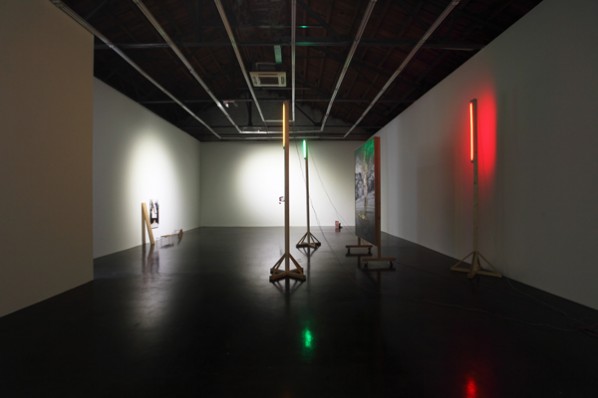 Beijing Commune presents Rauschenberg Said, the Walking Stick is Longer than the Maulstick, after All, the solo exhibition by artist Qiu Xiaofei from September 25 through November 16, 2013.
The artist was born in 1977 and graduated from the oil painting department of China Central Academy of Fine Arts in 2002. With his oeuvre that crosses the boundary of painting, installation and video, etc, since the beginning of his career as an artist over ten years ago. Qiu Xiaofei has become a representative figure of the emerging generation of artists in China. Since his recent practise, Qiu Xiaofei has shown strong interest in the study of the psychological process in the making of a painting and has been exploring the remodeling of the connection between painting and found object as a result. For this exhibition, the artist makes up some ridiculous stories that are supposed to be the inspiration of his new works, and by playing with the inherited meanings of forms and colours on the painting and the arrangement of the found objects that correspond to the depicted content, he tries to re-define the relationship between the two. The show also presents "Golden Boy" a painting by artist Robert Rauschenberg in 1997, as a solute from Qiu Xiaofei to this American precedent who centered his art on exploration of the relationship between painting, found object and human consiousness.
About the exhibition
Duration: 25 Sep – 16 Nov 2013
Location: Beijing Commune
Courtesy of the artist and Beijing Commune, for further information please visit www.beijingcommune.com.
Related posts: