Entitled "Song of Blue Bird", Xu Dongqing's new solo exhibition of paintings is going to be on view at Manet Art Space from June 9th through to July 20th, 2012. It features her paintings created from 1998 through to 2012, including "Time Garden", "News from the Distant", "Midsummer Night's Dream", "The Colors of Time", "Reflections of Objects", "Source of the Heart", "Sea", "I have a date with spring" and other representations of Xu's meticulous painting. Included in this exhibition are some of her recently created freehand works. It took her seven months to carefully edit her autobiographical catalogue, Song of Blue Bird: Xu Dongqing Catalogue which will be published along with this exhibition.
Named after "Song of Blue Bird", Xu Dongqing's solo exhibition together with her catalogue carries her wishes that this "song" will be like a little blue bird bringing beauty and joy and letting them reside in the hearts of audience and readers. "Xu Dongqing takes Blue Bird as a symbol with the charm of its spirituality and divinity instead of an inclination towards ancient customs. She paints flowers, trees, birds, figures and the wind. However, she has such a talent that she can reach into the soul with these materials to create a unique appearance. Therefore, things in her paintings have undergone a spiritual transformation and she is a singer of the spirit and a fairy full of passion for the art," said Deng Pingxiang, the academic host of this exhibition.
There is sacred awe, refined nutritious sympathy for the existence of life which always resounds in her work. Xu Feng, one of organizers from Manet Art Space thinks that, "We are impressed by her strength of meditation and feelings of compassion in her paintings. This kind of feeling is deeply rooted in her independent world of spirit as well as her pursuit of art. She insists on observing and feeling this world through her sincere and pure heart. Modestly, she communicates with nature and the audience with her own language of painting." This exhibition unfolds the long quest of an art lover for beauty and summarizes her previous achievements in art.
Ever since its foundation, Manet Art Space has followed the laws of art and established its own academic claims and art direction namely it focuses on the independently spiritual quality of artists and art works, at the same time it emphasizes the return of painting language to itself as well as the communication between art and people.
In the early summer of 2012, Song of Blue Bird: Xu Dongqing meets Manet Art Space by chance, which indicates not only a predestined relationship between each other, but also a common pursuit. "All things of beauty bring eternal joy." Beauty is summum bonum in the world while love and hope last forever.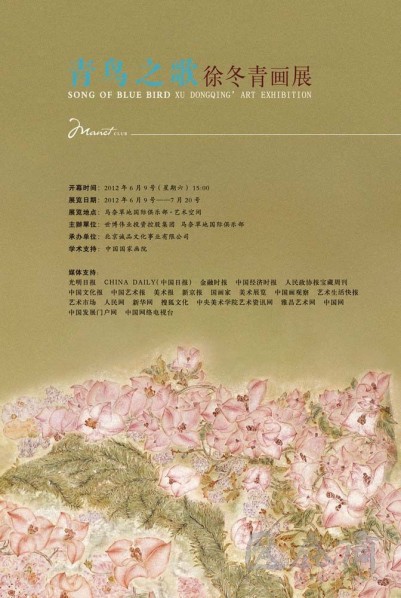 About the Exhibition
Opening: June 9th (Sat.), 2012, 3:00pm
Duration: June 9th-July 20th, 2012
Venue: Manet Art Space
Add: Xingshikou Road No.6, Haidian District, Beijing(turn left at the second crossroads of Sijiqing Bridge)
Tel: +8610-88469888
Academic Sponsor: China National Academy of Painting
Organizer: Manet Greensward International Club
Related posts: