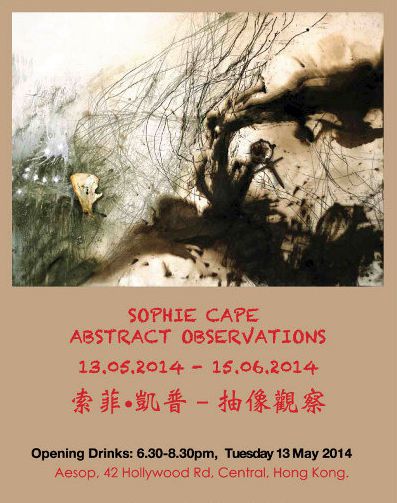 Sophie Cape is a truly exceptional woman. A former champion athlete, one of Australia's leading artists and a vigorous supporter of the disadvantaged.
As a former elite athlete – she was a champion downhill skier who had to stop due to multiple injuries – her approach to art is very much the same as it was in her former life. Now, rather than train and compete in competitions she fights with the force of nature in an attempt to express herself, to push boundaries, endure the emotional journey of mark making.
In February 2012 Sophie was painting alone on an Austrian mountain side, when a terrifying roar of wind heralded an avalanche. She was buried, along with 4 large canvasses laid out on the snow. Cape creditis her survival to her past life an an elite ski racer, which gave her the skills to withstand the natural disaster.
The same avalanche engulfed Dutch prince Johan Friso, who as skiing in the next village. Cape says the Prince has been left in a coma. It was -30C when the avalanche hit. "It's like being dumped by a hideously big wave," Cape says. "You don't know which way is up. I was able to pull myself out, but the works were gone." Cape eventually found all 4 canvases and was actually very pleased at the damage they sustained. "One is full of holes from the pickaxe from digging it out," she says. "But that's part of the process. It's exactly what I wanted, because I use what's in the environment."
Sophie's work is often made over a period of weeks in the Australian outback where she exposes both herself and her work to the elements, each composition an expression of her relationship to the landscape. This physicality, her use of soil, bone, charcoal, pigment give her work an honesty, a primal mark of the creation that is reminiscent of the paintings by our ancestors, a need to say 'I exist'.
She is currently trekking to the Mt Everest base camp and this experience will no doubt be reflected in hew next work.
Speaking of her work Sophie explains her driving passion "The landscape is imbued in the works. In this way I am free from the constraints of the studio. In an uncontrollable environment I am able to be much more physical, robust and performative in the process of creating the work. It's so important to truly see and feel the world around you in order to respond to it, and find your voice within it."
The Sydney-based artist studied at London's Central Saint Martins College of Art and Design and holds a Bachelor of Fine Art from Australia's National Art School. Her widely praised paintings and portraiture have enjoyed exhibition at distinguished events such as the Sydney Biennale and the Hong Kong International Art Fair. Her paintings are sought after by collectors around the world.
In 2013 Sophie was one of the inaugural artists at the Australia China Art Foundation project Arts Can Do residency bringing creative arts education to disadvantaged children of migrant workers in the remote mountain village of Xucun in Shanxi province.
About the exhibition
Duration: 13 May – 15 Jun 2014
Venue: Aesop
Opening Reception: 13 May 2014 Tue 18:30-20:30
Tel: 852-27503310
Add: Aesop Hollywood Road, 42-42A Hollywood Road, Central, Hong Kong
Courtesy of the artist and the Australia China Art Foundation.
Related posts: