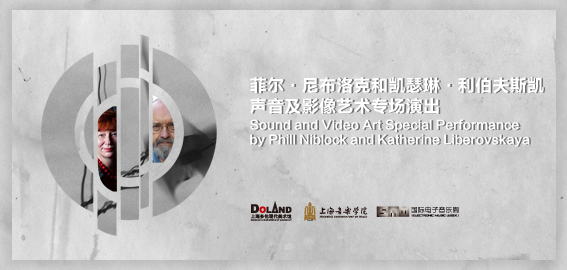 Since 2001, Liberovskaya's work in video has been focused on collaborations with composers and sound artists in the context of live video & sound performance where her visuals seek to create improvisatory "music" for the eyes. Niblock's music is an exploration of sound textures created by multiple tones in very dense, often atonal tunings (generally microtonal in conception) performed in long durations. The layering of long tones only slightly distinct in pitch creates a multitude of beats and generates complex overtone patterns.
About the performance
Date: October 19, 2015, 19:00
Venue: Shanghai Duolun Museum of Modern Art (27 Duolun Road)
This performance needs a reservation in advance and it's for free. 60 audience will be allowed to attend it and for booking please call +8621-566660272 or send mails to duolunedu@126.com.
Katherine Liberovskaya is a video and media artist based in Montreal, Canada, and New York City. Involved in experimental video since the 80s, she has produced many single-channel videos, video installation works and video performances which have been presented at a wide variety of artistic venues and events around the world. Frequent collaborators include Phill Niblock, Al Margolis/If,Bwana, Leslie Ross, Zanana, Kristin Norderval, Hitoshi Kojo, David Watson, David First and o.blaat (Keiko Uenishi). Recent solo projects include the audiovisual installations "NoizeBreeze"(2014), "sonimaginations tissulaires" (2014), "Air-Play" (2013), "Amplifontana" (2012) and "Shines" (2008-09). Concurrently she curates and organizes the Screen Compositions evenings at Experimental Intermedia, NYC, since 2005 and, since 2006, the OptoSonic Tea salons at Diapason, NYC, and in various locations in Europe and elsewhere with OptoSonic Tea On the Road. In 2014 she completed a PhD in Art Practice entitled "Improvisatory Live Visuals: Playing Images Like a Musical Instrument" at the Université du Quebec in Montreal (UQAM).
Phill Niblock is an intermedia artist using music, film, photography, video and computers. He makes thick, loud drones of music, filled with microtones of instrumental timbres which generate many other tones in the performance space. Simultaneously, he presents films or videos which look at the movement of people working, slides, or computer driven black and white abstract images floating through time. He was born in Indiana in 1933. Since the mid-60′s he has been making music and intermedia performances which have been shown at numerous venues around the world. Since 1985, he has been the director of the Experimental Intermedia Foundation in New York where he has been an artist/member since 1968. He is the producer of Music and Intermedia presentations at EI since 1973 (about 1000 performances) and the curator of EI's XI Records label. Niblock has no formal musical training. His minimalistic drone approach to composition and music was inspired by the musical and artistic activities of New York in the 1960s, from the art of Mark Rothko, Carl Andre, Sol LeWitt, Donald Judd, Robert Morris to the music of John Cage and Morton Feldman's Durations pieces. Over the years he has thus worked with a large number of the most diverse players including: Susan Stenger, Robert Poss, Jim O'Rourke, Ulrich Krieger, Seth Josel, Tom Buckner, and many others. He is the recipient of the prestigious 2014 Foundation for Contemporary Arts John Cage award. His music is available on the XI, Moikai, Mode Records, and Touch labels. A double-DVD of films and music, lasting nearly four hours, is available on the Extreme label.
Related posts: