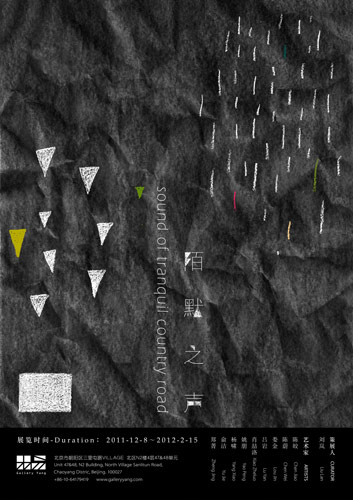 Entitled the "Sound of a Tranquil Country Road," this exhibition features 47 paintings from nine artists: Chen Jiao, Chen Wei, Lo Jin, Lu Yan, Xiao Zheluo, Yao Peng, Yang Xiao, Yu Jie and Zheng Jing. The show will last until Feb. 15, 2012.
Gallery curator Liu Lan said the exhibition aims to display an inner "disquiet" of the Post-80s generation (Chinese born in the 1980s). He said the artworks' unique taste and craft reveal the artists' emotional worlds that are full of colors. "These children live in a relatively stable society but an unstable economic environment," Liu wrote in the preface, "Their inner artistic talents keep them pure, sensitive and fragile; they are inherently conceited but stay bashful and shy on the outside. Like the world of a crystal ball, colorful but fragile. It seems like they can't find their own place in this splendid world."
About the exhibition
Curator: Liu Lan
Venue: Gallery Yang
Artists: Chen Jiao,Chen Wei,Lo Jin,Lu Yan,Xiao Zhe Luo,Yao Peng,Yang Xiao,Yu Jie and Zheng Jing
Courtesy of the aritsts and Gallery Yang, visit Gallery Yang for more details.
Report related to this:
Young artists reveal inner disquiet by www.china.org.cn
Related posts: