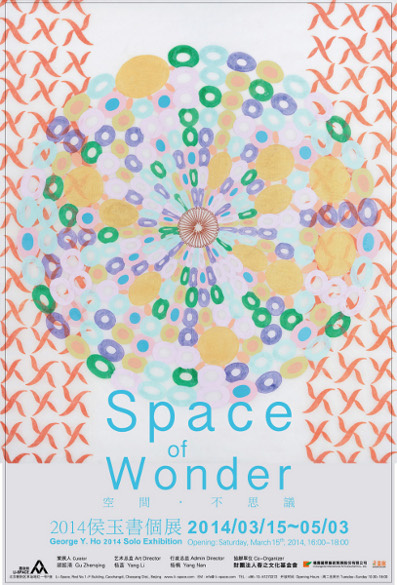 George intends to express with his artwork his awe of the cosmological forces and of humanity. His visual expressions have been informed by mythologies, East Asian art, Medieval Illuminated Manuscripts, Persian Miniature paintings, as well as The New Age Movement. Replacing the play of word and imagery of his earlier works, fluidly arranged geometric symbols in brilliant palettes are now the main focus of his imagery. To him, these symbols are the genesis of human language and the carriers of anthropomorphic energies which are inside each and every person. Through his works, George hopes to extend the invitation to rediscover one's connection to the universal consciousness.
George Y. Ho was born in Taiwan in 1968 and educated in the United States since the age of 11. He received his B.A. in Visual and Environmental Studies from Harvard University and pursued further studies in painting and sculpture at the New York Studio School in New York City. He maintained a painting studio in New York from 1995 until the end of 2003, when he moved his studio back to Taipei.
In addition to showing regularly in gallery exhibitions, George also creates large scale public art. A recent example is "The Emissaries," a 3 x 12 meters mixed media mural installation completed in 2009 for permanent viewing in the lobby of Taiwan's National Theater. George is equally active in the music field, with his role as the lead singer for the jazz ensemble, "Bossa Antigua" which performs bi-weekly at Franz and Friends in Taipei. He also studies and practices sound healing with the use of crystal and Tibetan metal singing bowls.
About the exhibition
Duration: Mar 15 – May 03, 2014
Venue: Li Space
Address: RED NO.1-F, CAOCHANGDI ,AIRPORT SERVICE ROAD,CHAOYANG DISTRICT,BEIJING, 100015
Tel: +86 10 51273272
Fax: + 86 10 51273271
Email: info@li-space.com
Courtesy of the artist and Li Space, for further information please visit www.li-space.com.
Related posts: