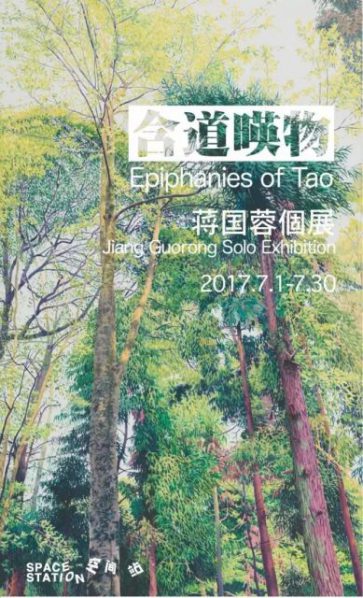 Space Station will launch Jiang Guorong's solo exhibition Epiphanies of Tao on July 1, 2017, which, following his exhibition Morning Sunlight – Nightfall Shade, is his second solo exhibition held in Space Station. Trees and woods came to be his subject-matter; and the spaces of these works provide with the audience a close sense of being compassed, in which the resident, through trees as a mediation, feels a nostalgia for the natural world. His works made the viewer, like a visitor, walking across the woodland as well as relaxing under the luxuriant trees. These trees are the link of manto the world, and the eternal dialogue between nature and man. Jiang, by practical observation, constructed with trees a space, which is changeable, open, stable, but continuous, a space that is bright and dark, soft and hard, flat and undulating, filling with fluctuation and streak, not only in two dimensions is full of rhythm but extends its depth and breadth in three dimensions. "This world is the real world that I want to show you", said Jiang.
"After a long observation, you will find that every tree is different: their branches grow recklessly, and the leaves make out the shape of trunks in various forms."
Jiang understood the tree as a living, dynamic, creative, and physical presence. The shape of a tree cannot be invented; each tree has its own uniqueness as if the tree has its own body: itis not just a tree in a landscape, but also a thing of the world, hence of the universe. From Jiang's extremely objective characterizations of trees, peeling off the accumulation of cultural imagination of trees, it would be seen that the authenticity of trees, at the gap of the time as well as at the fractured loci of the field, emerged with their existence, which is a pure presence and a clarification of existence.
About the exhibition
Dates: Jul 1, 2017 – Jul 30, 2017
Opening: Jul 1, 2017, 16:00, Saturday
Venue: Space Station
Courtesy of the artist and Space Station, for further information please visit www.space-station-art.com.
Related posts: