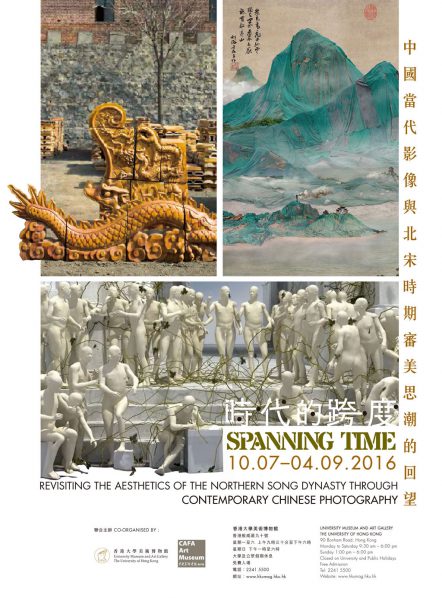 Preface
By Dr Florian Knothe
The University Museum and Art Gallery is delighted to collaborate with the Central Academy of Fine Arts Museum to present "Spanning Time: Revisiting the Aesthetics of the Northern Song Dynasty through Contemporary Chinese Photography". This innovative exhibition displays artworks by Yao Lu, Wang Chuan and Miao Xiaochun of the Central Academy of Fine Arts (CAFA) in Beijing. In photo and video all three artists capture the aesthetic ethos of Northern Song China, and present in their own contemporary style a link to the compositional and literary traditions of the past. Thereby, the artists connect their modern media works to a bygone era and pay homage to the stylistic and cultural values and connotations in their then-non-existent, self-elected art form.
In Yao Lu's work, for example, the landscapes scenes are first carefully composed and in themselves reproductions or re-interpretations, before the photographic image mimics the traditional scroll painting. Only a closer examination allows the onlooker to recognise the materials, and by extension the philosophy and social criticism that are fundamental to his work.
Wang Chuan's imagery connects both fable fairy-tale and reality. His photography singles out representations of dragons and their depictions in our everyday lives. The juxtaposition of mystical and mundane, magic and spirituality-laden and physical presence is particularly well expressed in his photography, and technically articulated by his pixelated and 're-focused' views.
'Disillusion' by Miao Xiaochun takes a slightly different approach in that it represents in three-dimensional and animated film clips the temporary and fragile nature of our lives. Much like Yao Lu, Miao Xiaochun also highlights the impact human beings have on the environment – despite the fragility of our own lives – and the irreversible destruction we leave behind when we are gone.
Important to these visual artist are both the symbolism embedded and the compositional methods employed. Their messages are carried widely and are expressed in a contemporary art form with a striking repetition and continuation of the past. We thank the artists as well as Wang Huangsheng and Cai Meng of CAFA and Chun Wai for our successful first collaboration and the unprecedented opportunity to present these symbolic artworks publicly in Hong Kong.
Dr Florian Knothe
Director, University Museum and Art Gallery, the University of Hong Kong
Spanning Time: Curatorial Statement
By Chun Wai, Cai Meng
Artists at the forefront of creative trends often hold views that run counter to the general public. This determination is born out of their artistic appreciation and sense of the times that drives them to create. The formation of an era's aesthetics is often associated with different political factors, cultural contexts or even technological innovations. When a new art form is introduced to the public, it naturally subverts the existing aesthetic values, and reverses the established social consensus.
As the era of big data expands, photography is pushed into an unprecedented period of activity, which continues to develop into a cultural force affecting a range of art forms. In the contemporary context, artists no longer lose themselves in the small and congenial circles of private salons, but rather act as public intellectuals who criticize the reality displayed in their works. The artists Yao Lu, Wang Chuan and Miao Xiaochun are all poised at the forefront of our times, and through their work they make visible the details of the current era via their unique brand of creativity and forms of artistic expression.
Wang Chuan's Re.Focus: Dragon is a highly specific series. Based on his travels through the north and south of the country, he discusses his impressions of the era through a uniquely imagistic language. The structure of the work is rigorous and exquisite. We can analyze the work from two perspectives. Firstly, the dragon, a traditional totem representing power and dignity, is turned into a vulgar symbol for today's consumerism. Secondly, there is no traditionally syntactic structure in Wang Chuan's photographic work. He strives to disassemble objects by means of altering his camera's focus, utilising aphasia (a distinctly photographic rhetoric) to transform his suddenly invalid image data into an extraordinary portrayal of the era of big data.
The social situation of the Norther Song Dynasty China is very similar to the social development of today's China, stable and economic booming. Literati landscape painting is the highest form of art in Chinese traditional art. Since the Sui and Tang dynasties, its development has been the foundation of Chinese aesthetics. Landscape painting provides a spiritual space that can be watched, visited and lived in. This space is a medium in which to employ an internal language system constructed by pen and ink. More importantly, we can feel the ancients' awe of mountains, rivers and nature. However, times change. Our awe has quietly refocused on the tremendous buildings and absurd modern urban landscapes. Behind these landscapes is a sort of expanding desire and willpower. Yao Lu's Hiding and Reconstitution uses the methods of collage and reconstitution to translate traditional landscapes into visual symbols. He then embeds these symbols into real-life situations in order to reveal the massive amount of damage to the environment caused by China's rapid economic development. Hiding and Reconstitution describes an unavoidable allegory where the blue-green damaged mountains and river is an alarm.
The 21st century's data revolution extends artistic creation into boundlessly virtual fields—both unreal and real—thereby transforming the spiritual world into images to produce new sensory experiences and thought. A broad view of history is key to Miao Xiaochun's artistic creations. In his epic trilogy, Disillusion, Limitless, Restart, he sometimes transforms images into ancient Chinese characters, and sometimes into a form of pure self that travels through the western spiritual world. Through his erratic images, he quotes a series of cultural codes and fragmentary narrative plots, such as Michelangelo Buonarroti's Pieta, Raffaello Sanzio's Scuola di Atene, J.S Bach's Matthäuspassion, Wilhelm Richard Wagner's Tannhauser, along with the weakened situation and inorganic existence of human history. Miao's lonely and wandering soul quietly considers the fluctuations of human civilisation in order to seek out the unanswerable answers up to the very end.
Spanning Time: Revisiting the Aesthetics of the Northern Song Dynasty through Contemporary Chinese Photography is an academic exhibition that displays artworks of three professors from the Central Academy of Fine Arts. The exhibition is based on the aesthetic relationship between contemporary artistic creation and traditional culture.
About the exhibition
Date: July 10 — September 4, 2016
Venue: University Museum and Art Gallery, The University of Hong Kong
Courtesy of the artists and University Museum and Art Gallery, The University of Hong Kong, for further information please visit www.hkumag.hku.hk.
Related posts: