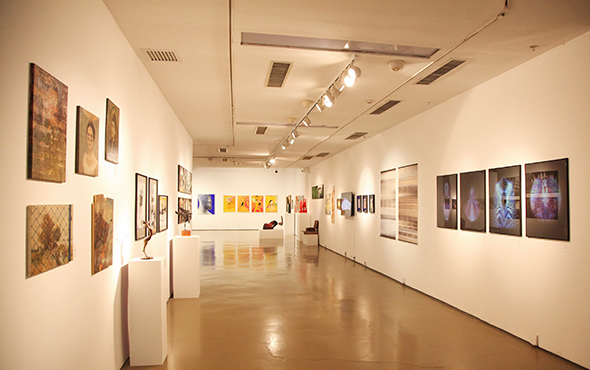 Preface
The exhibition of the Chinese National Academy of Arts in Budapest was entitled From the East. Held in the historic building of Vigadó, the headquarters of the Hungarian Academy of Arts, the exhibition took place in 2017. Our exhibition is held in Beijing's Today Art Museum whose name is already an indication that it is a venue for exhibitions of contemporary art. Viewing the Chinese works in Budapest, the organic connection of traditional and modern approaches was clearly visible. From time to time, we also witness reinterpretations of tradition in Hungarian art. The most well-known examples in music are the ethnographic collections of Béla Bartók and Zoltán Kodály and their compositions based on that work. In recent architecture, a return to eastern roots was seen in the art of the founder of our academy, Imre Makovecz and his companions.
At the end of the 19th century, European audiences encountered Far Eastern art and music at large scale world exhibitions. Art Nouveau would have been unthinkable without Oriental influences. Today, in the 21st century, art is constantly changing. In particular, the emergence of new media has posed a challenge to artists who work in conventional forms of art. Apart from a few exceptions, however, the present exhibition does not feature new imaging media directly.
The originality of imagination as well as local and individual accents provided the main criteria of selection. We are presenting the works of our fellow academicians belonging to the middle and older generations of Hungarian artists. We intend to show a diversity of individual approaches. What individual artists contribute to our common world based on their sensitivity, experience and talents, can be distilled from this diversity.
For many, the textbook illustrations that György Szemadám takes as raw material to improve upon and paint on, may recall the atmosphere of the 1950s. While the silhouette of two children is evoked in black paint, the original sheets are still recognisable. You can feel and see their documentary character. The painted surface has turned into a blackboard. We learned to write cursive script on such blackboards hung on classroom walls. Handwriting, and the way it looks, has remained important to us in the digital world as well. Erzsébet Katona Szabó writes Shakespearean quotations on rice paper. Approaching unrecognisability, one layer covers another. In these fragmented pages the viewer perceives a kind of lyricism and female sensitivity—the tension of transience. Sándor Filep painted a portrait of popular Hungarian actress Klári Tolnay at multiple magnifications. On one side of the picture, the lines of the French poet Baudelaire can be seen in Hungarian translation. We managed to find a Chinese translation of the poem. This may help viewers in Beijing come closer to the information of the artist. Transience is the topic of this large scale drawn picture as well: it is the image of the wrinkled face of a beautiful womantransformed by old age. A non-figurative sculpture can have similar effects as well. Ádám Farkas breaks up the surface of two granite blocks with his chisel. The smooth surface becomes wrinkled; it takes up a new shape. One of the columns bows down like a respectful young person or a bent-backed old man.
Statistics is not the only way to describe the world. Indeed, the story of the world can be told by birds, characters from fairy tales, landscapes, and objects as well. Stories or parables are mirror images of everyday life and of the world of adults and children. Péter Földi's large painting and two sculptures tell stories or ballads. It is to be noted that birds seem to be a guiding theme for many artists including, among others, György Szemadám and Róbert Csíkszentmihályi.
Gábor Véssey and Sándor László Veress stylize the figures in their pictures. The scene in the picture takes place in odd, stage-like, narrow- depth spaces. Sándor Veress was a teacher of many of us. Yet it is in his picture that the paint sprayer and the poster torn off the wall appear as an influence of street art.
In Gábor Lajta's paintings and calligraphy, an important element is the dynamism of the process of painting. Sculptor Pál Kő has the composer Béla Bartók mount a stork. Those who know how highly esteemed birds storks are in the eyes of people living in Hungarian villages, and those who are familiar with the roots in folk music of Bartók's music, will be delighted with this surreal, fable-like encounter. László Kunkovács's ethnographically inspired documentary photographs show dovecotes, archaic gates, and running people wearing traditional masks. These photographs and their subjects may have inspired creators of organic architecture in search of paths of renewal associated with tradition. Later on, sculptors also learned lessons taught by the simplicity and naturalness of buildings carved from branches. László Vinczeffy's Corals is of a similar inspiration. However, since he is also a painter, his sculptures are painted and look like wooden puppets or children's toys.
Rapidly changing rural life appears in Imre Bukta's works. His art is characterized by the creative combination of contemporary media and old objects, archaic materials. András M. Novák and Péter Prutkay use assemblies of objects to tell stories about the world. Prutkay displays the legend of King Saint László made up mostly of found objects.
Károly Elekes improves on found images, an operation he calls 'tuning'. Similarly to the way cars may be 'tuned', adjusted, or modified, to improve performance, Elekes modifies or enhances those copies and portraits of no artistic value by using his own instruments.
Images of destruction ("les fleurs du mal") are seen in large paintings by György Jovián. His pictures are characterized by the simultaneous beauty and colourfulness of environmental pollution, the drama of decrepit buildings, and fragmented views.
Attila Csáji's electrographs are produced with the help of new tools, laser, and self-developed imaging devices. Internal symmetries, images suggesting static, but continuous changes, point to the proximity of science and art. Reflection has been used as an imaging device for centuries. In István Orosz's anamorphic works, the elements of European art (of Greco-Roman origin) such as columns and arcades, the queen of chess, taken from the Arabs, and Far Eastern patterns of waves, are transformed by means of the artist's old and yet novel optical instruments. While his tools are traditional, the image appearing on the chromium-plated metal cylinder is very much a sight of today.
With a specific camera, László Haris took photographs of one-hundred- year-old buildings and village houses. These are contemporary photographs which transform reality: the photographer, for instance, has represented several times in a picture; and yet they report on urban and rural homes and buildings of bygone eras.
The line is of particular importance in Péter Kovács's paintings. His human figures have no definite surface. These figures, which swing and collide in his pictures, are, like X-ray images, composed of deep layers of the body, blood vessels, and tissues. Anyone with an eye for the hidden beauty of calligraphy will appreciate the articulation of these images of human contents, lines, and visual dynamics.
In summary, the overall picture of the works of members of the MMA's Section of Fine Arts represents diversity. While tradition is present in some of the works, it is also diverse. Folk lore inspirations and Greco- Roman influences coexist. The inspirational power of Far Eastern thinking as well as image and object culture is also reflected in, for example, Tibor Pataki's book statues or Miklós Szőcs TUI's sculptures.
Our academicians are not yet members of Generation Y, but our world view, our daily lives, and our reactions are also affected by a novel, digital world. Many of us teach at colleges and arts universities. The generation of teachers must be characterized by openness and, at the same time, the pursuit of contemplation and summarizing. We are delighted to exhibit our work in China, in Beijing, at the Today Art Museum.
About the exhibition
Duration: 2018.05.14 – 2018.06.10
Location: 1/F & 2/F Exhibition Hall of Building No. 3, Today Art Museum
Courtesy of the artists and Today Art Museum, for further information please visit www.todayartmuseum.com.
Related posts: