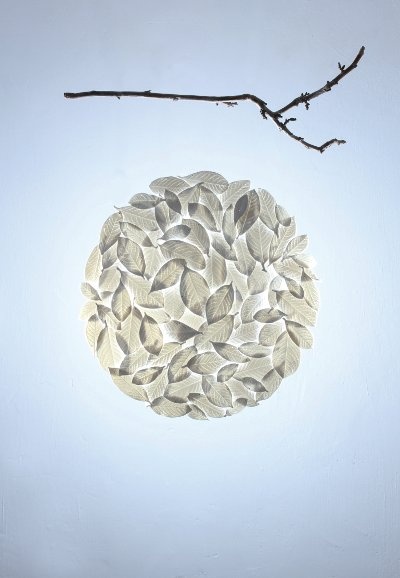 Grotto Fine Art takes pleasure to present Splendorous World – Fiona Wong Lai-ching, a solo exhibition of the acclaimed Hong Kong ceramics artist. Inspired by the microscopic view of the world, this new series features Wong's unique observation of our environment through the language of clay.
Living in a cosmopolitan city like Hong Kong, our relationship with nature seems far and remote. Yet all living matters exist in equilibrium under the governance of nature's order. Rustle of bushes, streams of current, sunshine pours among leaves and shadows cast on lawn are not mere reflection of nature's beauty, but a glance of the philosophical aspect of life. Applicable to all creatures including us, this higher order is everlasting and ultimate. It is ironic to notice how urban lifestyle often neglects such primitive aesthetic.
Inspired by the traces of nature, Fiona Wong's new works feature her signature combination of porcelain and light. Polygon-shaped fragments of porcelain are circumspectly woven into a neat and orderly composition with reference to beehive and cells. Fragments with center sanded down to paper thin are joined together to form a large plane which is pervious to light.
To accentuate the translucency of the porcelain, a light source is to cast from behind reflecting the praise of sun that nurtures life and giving out changing hues and tones. Surrounded by the city's concrete forest, Wong is particularly sensitive to nature's ever-changing colors. In this exhibition, the audience is treated to a waltz of splendor colors. Leafy green, raspberry red, and ocean navy, the colorful radiance of Wong's ceramic sculpture is visually magnificent while paying tribute to the myriad manifestation of nature.
Working with a medium that defines China's greatest antiquities, Fiona Wong creates ceramic sculpture with unparalleled skills and contemporary visions. As a teacher and one of Hong Kong leading sculptors, Wong's influence on the arts is profound. She launches exhibitions regularly and her works are collected by major private and public institutions around the world.
About the exhibition
Duration: 16 Jan – 15 Feb 2014
Venue: Grotto Fine Art Ltd
Opening Reception: 15 Jan 2014 Wed 17:30-20:00
Opening Hours: 11:00-19:00 Mon-Sat (Closed Sunday & public holidays)
Tel: 852-21212270
Add: 2/F 31C-D Wyndham Street, Central, Hong Kong
Courtesy of the artist and Grotto Fine Art, for further information please visit www.grottofineart.com.
Related posts: