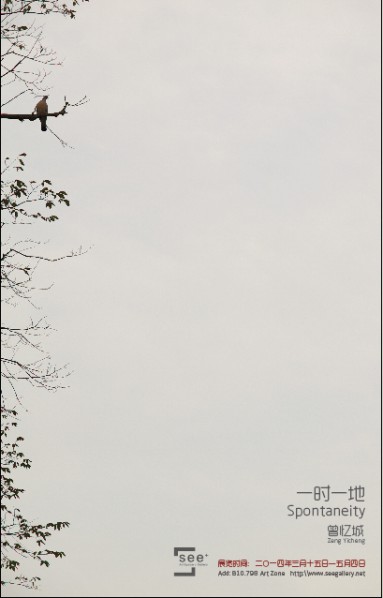 One bird, one tree branch, one wild grass and one piece of thin cloud are all just like normal objects. In the lens of Zeng Yi-Cheng, there is the exquisiteness of the small Yuanti Painting in Song Dynasty, as well as the flexibility and unpredictability of traditional ink wash paintings. Of course, the latter two do not reflect of the spatial sense of emptiness and mysteriousness that are found in "Spontaneity".
This is a part of the visual record of Zeng Yi-Cheng's lonely journey sometime in the past in China, Europe and U.S.A. Time goes by, being careless of leaving or staying. Zeng Yi-Cheng may have changed his mood, does he still remember the feeling at the moment when he pressed the shutter button?
It is said that the beauty of "ordinary" and "simplicity" is the principal of photography that centers it. Zeng Yi-Cheng emphasizes that he did not inhabit the habit of editing photos on computer. Therefore, the discovery of the beauty of "ordinary" and "simplicity" is a complicated process of how Zeng Yi-Cheng eliminates distracting thoughts from his visual perception. As for its closeness to reality and subtlety, "Spontaneity" is somewhat similar to the haiku of Japanese literature, in which readers can seek their own interpretations.
About the exhibition
Opening Ceremony: 15 March 2014 3:00~6:00pm
Exhibition Date: 2014.03.15~2014.05.04
Exhibition Venue: see+ gallery
Address: see+ gallery B10, 798 Art Space, No. 2 Jiuxianqiao Road, Chaoyang District, Beijing, China
Tel: 010-59789266
Fax: 010-59789166
Courtesy of the artist and see+ gallery, for further information please visit www.seegallery.net or contact seegallery@vip.126.com or visit http://site.douban.com/128570.
Related posts: