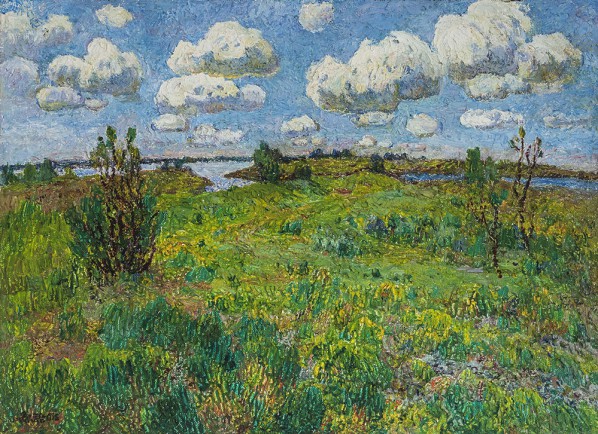 Soka Art Center is about to hold the "Spring Mountains and Green Trees – Solo Exhibition by Sun Yuntai" in the 798 Art Zone of Jiuxianqiao Road, Chaoyang District, Beijing on February 22, 2014.
Born in Longkou City in Shandong Province, Sun Yuntai (1913-2005) was an influential landscape painter in Heilongjiang. Different from the first generation of overseas Chinese students in France and Japan, who were influenced by Western painting, Sun Yuntai learned from the Russian school. He initially inherited his style from the Japanese artist Koga, and then went to Russia in 1931, and worked in the Russian aristocrat painter Lobanov's studio in Moscow to learn how to paint, together with Lobanov he escaped from Russia and settled in Harbin in Heilongjiang Province in 1943. He conducted many teacher-and-student joint exhibitions and solo ones in Moscow and Tokyo, Japan during the 1930s through to the1950s, being well-famed in the painting circles of Russia and China, and even Japan. During the 1950s and 1960s, about 20 pieces of his works were collected by the Diaoyutai State Guesthouse. Meanwhile, along with Fu Baoshi and Guan Shanyue, he was invited to paint for the Great Hall of the People in Beijing, during that time, so "Forest", "Songhuajiang River" were completed and exhibited in the Heilongjiang Pavilion of the Great Hall of the People.
After 1985, SunYuntai embarked on his "second spring" of artistic creation. Given that most of the early works were destroyed, his works created passionately after 1985 are very valuable. In 1994, Sun Yuntai showcased his 11 works together with outstanding international artists such as Picasso at the "Beauty in Taiwan – International Art Fair", his works made a stir. From the end of the last century, Soka Art Center has been attached to the artist and held a solo touring exhibition in the Soka Art Centers in Taipei and Tainan, and published the "Sun Yuntai Oil Painting Album" in Taiwan. It is about to present 29 landscape oil paintings created by Sun Yuntai during 1989 through to 1999. Sun Yuntai made up his mind that by "observing nature, feeling nature, and the of freedom expression", using exquisite and precise strokes to depict the colorful nature so sincerely and imaginatively that there is a performance of real beauty between heaven and earth given by spring, summer, autumn, and winter. Sun Yuntai's long-term study in Russia, means that he attained an ability in a strict and normative sketch style, combined with the feeling of impressionistic color, which contains rich changes between the cool and warm colors, it is wonderful that the air seems to flow in the painting!
This exhibition will last until March 30, 2014.
Courtesy of the artist and Soka Art Center, translated by Chen Peihua and edited by Sue/CAFA ART INFO, for further information please visit www.soka-art.com.
Related posts: