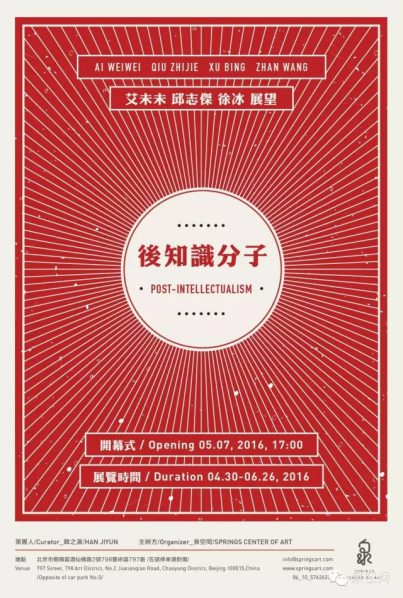 Springs Center of Art will present a new exhibition entitled "Post-Intellectualism" and the opening event will be held on May 7, 5:00pm. Artists include Ai Weiwei, Qiu Zhijie, Xu Bing and Zhan Wang and they will bring their installation, video, sculptures and modern ink paintings to this exhibition.
Their art works highlight a mixture of Chinese and Western ideology which both have affected trends of Chinese contemporary art. Chinese contemporary art has sincere humanistic spirit, it is not only because artists are influenced by the long term history of Chinese philosophy and culture, but they have also been learning various western ideologies since the '85 Art Movement'. A Chinese contemporary artist plays not just the role of being an artist, but he also creates a philosopher, an observer or being as a prophet in his art who formulates images of contemporary China. Chinese contemporary artists choose various expressions which combine Chinese ideologies with Western aesthetics and philosophies to illustrate the picture of Chinese contemporary. Some of them take third-person narration that implies modern urban phenomenon smoothly and some of them keep strong critical thinking which attempts to advocate every being's consciousness about their existence. "Post-Intellectualism' refers to four Chinese artists whose art works blend into Chinese and Western philosophies and aesthetics. These four have based on Chinese ideologies and they created their own concepts individually with Western or Chinese aesthetics. "Post-Intellectualism" will be held from April 30 through to June 26 at Springs Center of Art.
Chandelier by Ai Weiwei, has been exhibited at Guangzhou Triennial 2002. This is a giant installation which is made by crystal, light bulbs and scaffolding. Magnificent and grand Chandelier-like form criticizes new Chinese bourgeoisie who are enthusiastic to grow rich and identify themselves by buying luxurious goods.
Qiu Zhijie's Map series is an ink-based map project with the artist's fantasy in which combines culture, social and personal symbols and each of them connect to one another logically. Qiu's Map series is an artistic practice and he provides humorous perspectives to understand connections between the beings and the world.
Xu Bing's Mount Lu isinspired by Zhang Daqian's splashed-color landscape Mount Lu in 1983. Xu recreates this epic color ink landscape painting in a giant light box and sets up scenery of Mount Lu by branches, leafs, bubble wrap and plastic bags. Xu Bing's Mount Lu turns a classic and authentic color-ink landscape painting into a post-modern art with technological, manmade and intellectual sense.
Silhouette made by Zhan Wang, who has been contemplating on the relationship between the twisted imagery of the reflection and his sculptural practice. Rocks—real and fabricated—are recurring motifs and materials in his work, through which he explores the intertwining relations of human and natural history as well as our relationship with urban and natural landscapes. Artificial Garden Rock that Zhan used stainless steels to create has elaborated the traditional Chinese culture; he wants to describe the industrial developments in the city through ice cold materials.
About the exhibition
Exhibition Time: 2016.04.30-06.26
Opening: 2016.05.07 PM5:00
Artists: Ai Weiwei, Qiu Zhijie, Xu Bing, Zhan Wang
Organizer: Springs Center of Art
Courtesy of the artists and Springs Center of Art, for further information please visit www.springsart.com.
Related posts: