Long interested in written languages, internationally acclaimed Chinese artist Xu Bing has devised a unique method to write English words that resemble Chinese characters. Using his Square Word Calligraphy, Xu Bing transcribes poems by Robert Frost and the 8th-century Tang Dynasty poet Wang Wei, as well as Bob Dylan lyrics and children's nursery rhymes. Visitors may initially perceive the large, multi-paneled works as written in traditional Chinese, but will delight to discover their ability to "decode" the distinctive text. Xu Bing's hybrid calligraphy marries art from two diverse cultures. It will last until August 26, 2012.
Square Word Calligraphy, invented and designed by the artist Xu Bing, is a system that transforms a linear, phonetic system of writing into a character system based on the square. Fusing written English and Chinese, square words arrange the slightly altered letters of an English word into a shape resembling a Chinese character, yet they remain legible to the English reader. Having been exhibited at Columbia University's Miriam and Ira D. Wallach Art Gallery from September 7th through to October 22nd, 2011, Xu Bing's Square Word Calligraphy invites visitors to learn to recognize and write square words while their ingrained habits of reading and writing are challenged. Xu hopes that"while undergoing this process of estrangement and re-familiarization with one's written language, the audience is reminded of the self-induced distance between systems of language."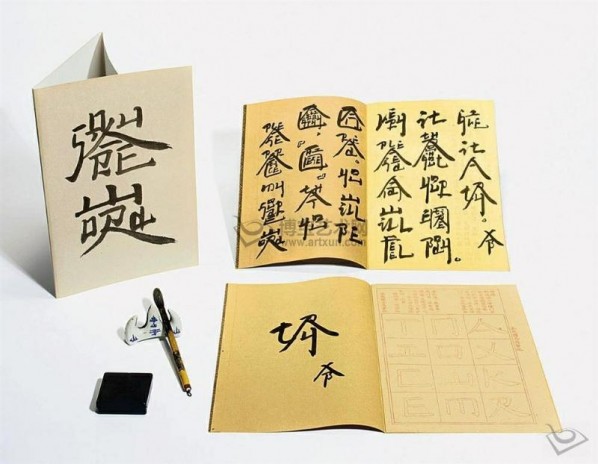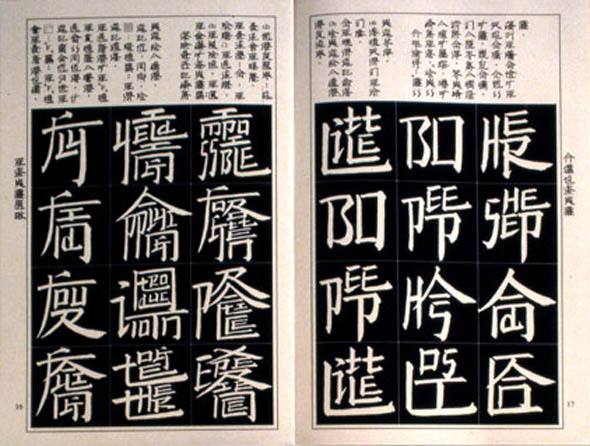 Xu Bing's extensive international exhibition career includes solo exhibitions at the Arthur M. Sackler Gallery, Washington DC; the New Museum of Contemporary Art, New York; the Joan Miro Foundation, Spain; National Gallery of Prague and the Spencer Museum of Art, Kansas. His work was included in both the 45th and 51st Venice Biennales; the Biennale of Sydney and the Johannesburg Biennale.
Xu Bing was the recipient of a MacArthur Fellowship in 1999, the Fukuoka Asian Culture Prize in 2003, and the first Wales International Visual Art Prize, Artes Mundi in 2004. In 2006, the Southern Graphics Council awarded Xu Bing their lifetime achievement award in recognition of the fact that his "use of text, language and books has impacted the dialogue of the print and art worlds in significant ways." Since 2008, Xu Bing has served as Vice President at the Central Academy of Fine Arts, Beijing. In 2010, he was awarded an honorary Doctorate of Humane Letters by Columbia University.
Related posts:
1 Xu Bing at Columbia University's Wallach Art Gallery by Miriam and Ira D. Wallach Art Gallery
2 Xu Bing: Square Word Calligraphy by Katonah Museum of Art
Courtesy of Xu Bing and Xu Bing Studio.
Related posts: