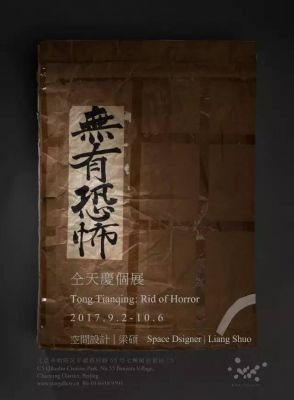 Between 2013 and 2015, two of Tong Tianqing's handmade books – The White Horse and The Brine – were completed one after another, both reflecting the artist's feelings about the reality in the form of every-day handwriting. Written and illustrated by himself, The White Horse is a container of Tong's fear – the fear of the transient nature of mortal life. The Brine, on the other hand, mourns for the doom of the world itself with the artist's landscape paintings. In 2017, Tong Tianqing turned his peculiar experiences during the past two years into a new book – Rid of Horror– the title of which invokes a line from the most popular Mahayana Buddhist scripture, The Heart Sutra, that "because there is no hindrance in their mind, they (the Bodhisattvas) are rid of horror". To Tong, however, human beings are destined to live with "hindrances". As long as one is still alive, there is the risk that he will be overwhelmed by horror at any minute. In this respect, to be "rid of horror" is just an illusion never to accomplish.
By allowing Liang Shuo, an artist friend of Tong Tianqing, to take care the exhibition in terms of space design and ambience management, Tong gave up his control over the installation of his show, and thereby set off for a new adventure. Liang Shuo's work consists of sculpture, installation, performance art, so on and so forth, as well as his upcoming collaboration with Tong Tianqing, which attempts to impress the audience by putting a stress on the idea that "a show of art is also a work of art".
Tong Tianqing graduated from China Central Academy of Fine Arts in 1995 as a major of Traditional Chinese Painting. After that, Tong didn't put down his ink brush for once but continues with his passion for art, only not professionally. On Tong Tianqing's oeuvre, it is easy to notice the great influence of folk art, both western and oriental, whose simple style and powerful expression coincide with Tong's inclination in art.
About the exhibition
Dates: Sep 2, 2017 – Oct 6, 2017
Venue: Star Gallery
Courtesy of the artist and Star Gallery, for further information please visit www.stargallery.cn.
Related posts: