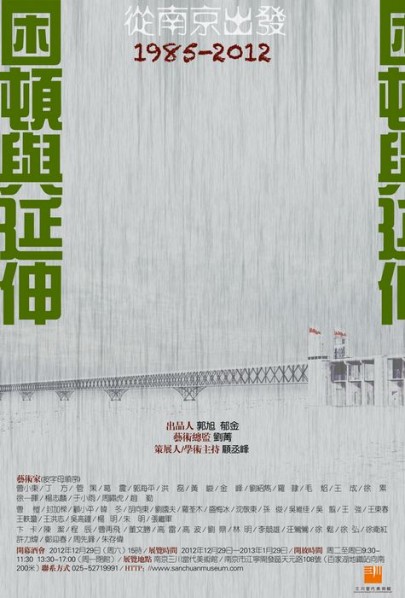 Preface by Gu Chengfeng
For the significant in history is such only through its relation to and connection with a Universal. To perceive this Universal is thus to apprehend the significance.
—— Volume 1, Lectures on the History of Philosophy, Hegel
This exhibition tries to straighten out a comparatively clear clue from complicated contemporary art in Nanjing. What are exhibiting are not only "history", but also the absolute reality. However, the more important purpose for us is to reveal the "commonness" behind "history" even though everyone can have his/her own understanding of "commonness" through these works.
The foot-hold of exhibiting history is obviously the contemporary times. Interlacing the history with the present of contemporary art to demonstrate the strength of creation and the tension of art is the original intention to hold this exhibition and publish the literature.
This exhibition and relevant literature mainly deal with three questions: 1. Who are we? 2. Where do we come from? 3. Where are we going to?
This is similar to the title of a painting by Gao Geng, because questions distressing people are irrespective of areas and times.
Who are people "starting from Nanjing"?
First of all, they include contemporary artists whose determination to stand fast to Nanjing remains unshakable and becomes even firmer as time goes by, so we should not shirk the responsibility to pay continuous attention to them.
Secondly, they include contemporary artists who are related to Nanjing. Flowers, no matter on which side of the wall, are all fragrant. The efforts of these artists give us confidence, and Nanjing also feels proud of them.
In addition, they include migratory-bird-like artists in Nanjing, who shuttle back and forth in and out of China. They seek development of their own, make trial-and-error for others, and look for new possibilities.
We still need a description and a definition of "Contemporary art in Nanjing" here.
Firstly, this activity defines 1985 as the beginning of the contemporary art in Nanjing. The reason lies in the synchronism of modern Chinese fine arts and scale appearance of explorative and experimental rather than traditional and continuous art in Nanjing and other cities in Jiangsu Province. Experimental, exploratory, non-decorative and contemporary-problem-facing elements are basic principles this exhibition has been upholding when choosing works.
Secondly, works of contemporary art presented in this exhibition are mainly oil paintings, devices and videos created in Nanjing, involving only a small number of ink and wash paintings. Nanjing is of course an important city of ink and wash paintings due to the profound influence of traditional water-ink paintings on it, but in my opinion, "New Literati Painting" which appeared in the 1980s and 1990s does not belong to the category of contemporary art, so there were very few ink and wash paintings. But this certainly does not mean that there are no contemporary works of ink and wash paintings in Nanjing. Just to the opposite, this is another question which needs to be specially discussed, so it will be dealt with in the future.
This exhibition consists of three parts:
The first part is "Moving Memories". Artists whose works are chosen are mainly the most active ones during the period of 1985 New Wave and the beginning of the 1990s. I would like to extend regards to them here. These artists are still the nucleus of the creation of contemporary art in Nanjing, and their works are the witnesses to history and reality.
The second part is "Journey of Anomalies". Artists whose works are chosen are mainly those who got involved in contemporary art in the 1990s. As the main characters of contemporary art in Nanjing, their works have overturned conventions, with the abnormal images presented, making us feel that we saw them before but also feel it inexplicable.
The third part is "New Grasshoppers". Artists whose works are chosen are mainly young artists who stepped into contemporary art in the 1990s and at the beginning of the new century. Demonstrating more fashionable and light-hearted mood, their works have more stimulating language to show the sensitivity to the social reality and the determination to step on an unusual road, so they seem more unfettered.
Having started from Nanjing, where are we going to? This is a question many people would like to ask.
In a large sense, where the objective of contemporary art in China lies, contemporary art in Nanjing will advance together with it.
In a small sense, heart stays with road, so the objective exists in the heart of every artist.
In the novel On the Road written by Kerouac, an American writer in modern times, a group of young people fall into company with each other and go to seek ideals. They go across America. Whenever arriving at a place, they find their dreams are still far away.
Therefore, they are always "on the road"…
This state is exactly the circumstance of contemporary art in China and also the portrayal of contemporary art in Nanjing.
About the exhibition
Date and Time: December 29, 2012 through to January 29, 2013, 10:00am-17:00pm Tuesday through Sunday (Close on Monday)
Venue: Sanchuan Modern Art Museum
Address: No. 108 Tianyuan Road, Jiangning District, Nanjing
Tel: 8610-025-5271-9991
Courtesy of Sanchuan Modern Art Museum, for further information please visit www.sanchuanmuseum.com.
Related posts: