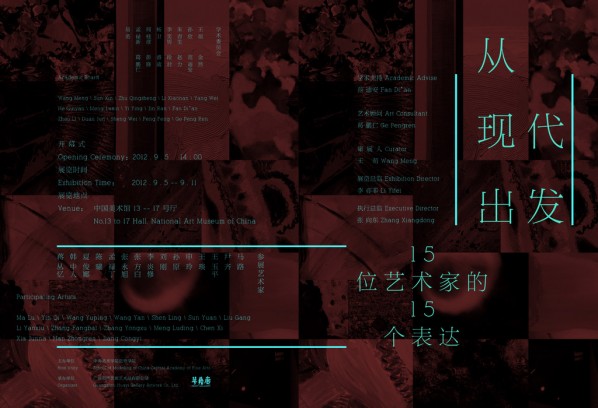 Entitled "Starting from the Modern", this exhibition displays their recent explorations and representative works of 15 artists from Central Academy of Fine Arts: Ma Lu, Yin Qi, Wang Yuping, Wang Yan, Shen Ling, Sun Yuan, Liu Gang, Li Yanxiu, Zhang Fangbai, Zhang Yongxu, Meng Luding, Chen Xi, Xia Junna, Han Zhongren and Jiang Congyi. Curated by Wang Meng and academically chaired by renowned critic Fan Di'an, it has invited Ge Pengren as its artistic adviser and has formed a academic team that consists of Wang Meng, Sun Xin, Zhu Qingsheng, Li Xiaonan, Yang Wei, He Guiyan, Meng Luxin, Yi Ying, Jin Ran, Fan Di'an, Zhao Li, Duan Jun, Sheng Wei, Peng Feng and Ge Pengren.
As a community for the exhibition, they have the common idea of "starting from the modern". Visually seen, the works of these artists are manifold and vivid with abstract elements radiating, square rehearsals, virtual refuge and emotional expression as well as a concrete freehand state, humorous expression, cold artistic conception and paradisical inquiry; with a spiritual totem between abstraction and the concrete as well as the reproduction of memory and transcendence of convention conducted with ideas and devices. Most works of these artists get rid of the restraint of stereotype in "abstraction", "expression" and "idea" in the history of art with their own language breaking through and spiritual perfusion, and realizing a "new" occurrence in the combination of free style and expression, interaction between abstraction and image, links between ideas and material nature, integration of realism and device and a conversion between manual work and machine. This exhibition hopes to build a platform for entering and discussing the contemporary art through the display of 15 artistic cases to realize an in-depth and widespread exchange with the art circle and public on the public platform of National Art Museum of China.
The group exhibition "Starting from the Modern" has aroused discussions on "rewriting modernity" and "rewriting the contemporary" among critics such as Yi Ying, Zhu Qingsheng, Peng Feng, Zhao Li, He Guiyan, Sheng Wei, Li Xiaonan, Dun Jun and so on. It also sorts out Chinese abstract art and expressionism from the 1980s while the problems they discussed also involve trying to distinguish the landmarks between modern art and contemporary art by virtue of "concepts", rethinking the history and current situation of contemporary art from the perspective of "purifying language", mode studies on academic education and contemporary art creations, positive effects that the reasonable parts of modernist spirits have exerted on contemporary art, etc.. From "individual cases" to "phenomena", from "colony" to "macro", from "creative level" to deep "theoretical level", this exhibition intends to cut to the process of contemporary art during the process of reviewing history, analyzing individual cases and phenomena, thus providing a visual text open to academic discussions in the context of social transformation and cultural transitions.
About the exhibition
Theme: Starting from the Modern: Group Exhibition features 15 Expression of 15 Artists
Academic Host: Fan Di'an
Artistic Consultant: Ge Pengren
Curator: Wang Meng
Exhibition Director: Li Yifei
Executive Director: Zhang Xiangdong
Media Director: Wang Jing
Graphic Design: Liu Zhizhi
Space Support: Liu Zhengyu, Li Jing
Curatorial Assistant: Xiao Yuer
Opening Ceremony: 2:00pm, Sep 5, 2012
Duration: Sep 5—11, 2012
Venue: National Art Museum of China
Sponsor: School of Fine Art, Central Academy of Fine Arts
Organizer: Guangzhou Gallery Artwork Co., Ltd.
Related posts: